The 2016 Pokémon Trading Card Game Spring Regional Championships are approaching, and that means it's time to switch back to the Expanded format. The Winter Regional Championships provided a preview of how the XY—BREAKpoint expansion affected the tournament scene, and now players have had more time to develop ideas and streamline their strategies. Let's dig into what decks to expect at these important events.
Double the Darkness
It's no secret that Darkness-type Pokémon have been dominant in the Expanded format, and much of that success can be traced back to the powerful Item card Dark Patch. Currently there are two major styles of Darkness decks, and both of them have their own unique strengths. The first one is a familiar concoction focusing on Yveltal-EX.
This particular version of the Darkness deck was dominant at Winter Regionals, and it continued to have success even after the release of XY—BREAKpoint. It has an incredible number of options at its disposal and the ability to adapt to nearly any situation. There's speed and power with Dark Patch and Yveltal-EX, mobility and Bench hitting with Darkrai-EX, powerful non-EX Pokémon such as Gallade, disruption against evolved Pokémon with Archeops, and excellent consistency since it uses mainly Basic Pokémon and then Maxie's Hidden Ball Trick to get the Fighting-type Pokémon into play. All of it adds up to a deck that's extremely difficult to defeat.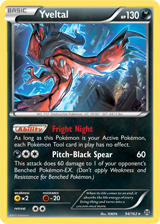 One interesting change we've seen recently is a shift from the Yveltal from the XY expansion to the newer Yveltal from XY—BREAKthrough. With so many Pokémon-EX in the current environment, the Pitch-Black Spear attack can do a significant amount of damage to two Pokémon in one attack. In particular, it's great for targeting an opponent's Shaymin-EX for two Prize cards after just a couple of attacks. Some players have started to use Mr. Mime as a way to stop this Pokémon's damage to the Bench, so Silent Lab is making its way into Darkness decks in response. This strategy always seems to be evolving, and it wouldn't be surprising if players found even more ways to make it stronger.
The other popular Darkness deck in the Expanded format focuses on Darkrai-EX from XY—BREAKpoint.
This style of deck trades away flexibility and options for more speed and raw power. It's all about Darkrai-EX's Dark Pulse attack, which does extra damage for each Darkness Energy attached to all of your Pokémon. With the help of Max Elixir and Dark Patch, the goal is to get a massive amount of Darkness Energy into play right away to pump up the damage, putting a ton of pressure on the opponent. And when Fighting Fury Belt boosts Darkrai-EX to a mighty 220 HP, it becomes very difficult to deal with.
There's no denying the power of this strategy, but it has some weaknesses that might make it less appealing than the first option. Darkrai-EX is weak to Fighting-type Pokémon, so Gallade and other popular Fighting types can be a real problem. A lot of the strategy relies on Item cards, meaning any kind of deck that disrupts Item cards can be tough. Jolteon-EX with its Flash Ray attack is something else to look out for, since this deck has nothing but Basic Pokémon. All of these are legitimate concerns, but sometimes a deck like this one can fight through its weaknesses with brute force.
Primal Power
Primal Groudon-EX had a major resurgence in the final week of Winter Regionals, including a victory in Oregon by Sebastian Crema. It's tough to pinpoint what caused this Pokémon to make such a comeback, but it has plenty of great attributes to build a powerful deck around it. In every category, Primal Groudon-EX is simply a force of nature: It has a monstrous 240 HP, a Gaia Volcano attack capable of taking down just about any Pokémon, and the Ω Barrier Ancient Trait to protect it from the opponent's Trainer cards. A lot of strategies get disrupted by Trainer cards such as Crushing Hammer, Hypnotoxic Laser, or Lysandre, but Primal Groudon-EX cannot be affected by any of those cards, which makes this Pokémon quite resilient.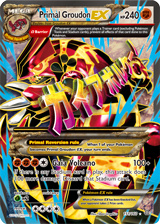 The major drawback to this deck is that it's extremely slow. The Gaia Volcano attack requires four Energy, and there's no easy way to power it up quickly. With that in mind, most players don't include Groudon Spirit Link, because ending the turn with Primal Reversion isn't the thing that slows them down. Without the Spirit Link, this deck has more room for defensive Pokémon Tool cards such as Focus Sash, Assault Vest, or Hard Charm to keep the 240-HP Pokémon battling even longer. Most other decks use Shaymin-EX's Set Up Ability to draw cards quickly, but this strategy is so slow that it makes sense to use Wobbuffet to slow other decks down, then use the Tropical Beach Stadium to draw extra cards. Doing this ends the turn, but again, what's the rush when Gaia Volcano takes so long to power up?
In an environment filled with blazing-fast strategies looking to win as quickly as possible, Primal Groudon-EX is a unique Pokémon that can bring the game to a snail's pace. It's nearly impossible to stop once it's completely ready, and that kind of strength can win a tournament on its own.
Forest's Curse
Trevenant has been used in plenty of championship-winning decks, but usually it was just part of a combo with Accelgor or Gengar-EX to exploit its Forest's Curse Ability. Its 110 HP makes it too frail to be a primary attacker, and the Tree Slam attack isn't particularly powerful. But that all changed with the introduction of Trevenant BREAK, which gives Trevenant a nice boost to 160 HP and comes packing the Silent Fear attack, which can quickly pile up damage on all of the opponent's Pokémon. The impact was instant, with a Trevenant BREAK deck winning at Florida Regionals.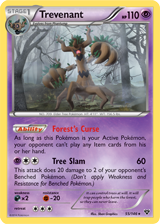 Locking down Item cards continues to be a viable strategy in the Pokémon TCG, and the Forest's Curse Ability can do that quickly with the help of Wally. But it's the combination of disruption and aggression that makes this strategy so potent. Typically, Trevenant comes into play on the first turn of the game, shutting down the opponent's Item cards with its Ability. Then, Trevenant BREAK comes out on the second turn, ready to use an attack—and keeping that disruptive Ability. The opponent has to respond quickly or be overwhelmed by a slew of Silent Fear or Tree Slam attacks, but it's extremely difficult to do that without access to Item cards.
One of the biggest hurdles for Trevenant is its Weakness to the prevalent Darkness-type Pokémon. Our example deck list has a few tricks to help deal with that—the most straightforward one is Weakness Policy to remove the Weakness altogether. Bursting Balloon is another option, damaging the opponent's Pokémon if it attacks Trevenant. Once the opponent's Pokémon has some damage on it, Wobbuffet can step in and hit hard with its Psychic Assault attack. Some players even use Crushing Hammer to discard the opponent's Energy and prevent any attacks at all. It remains to be seen whether Trevenant can thrive in an environment filled with Darkness-type Pokémon, but it's a top contender if players can figure out how to make it work.
Seismitoad's Still Around
Seismitoad-EX's Quaking Punch attack has been wreaking havoc for quite some time now, and it's still a contender in the Expanded format. Just like Trevenant, it thrives on shutting down the opponent's Item cards quickly. Even though Quaking Punch doesn't do as much damage as Trevenant or Trevenant BREAK's attacks, there are some distinct advantages to using Seismitoad-EX instead. It has more HP (which can be further boosted by Fighting Fury Belt), and it requires fewer resources because it's a Basic Pokémon. It also doesn't have a Weakness to Darkness-type Pokémon, which is a major selling point. Perhaps the biggest difference is that the Item-locking effect is an attack, not an Ability, so the opponent can't use Hex Maniac or similar effects to shut it off.
Seismitoad-EX gains major strength in the Expanded format with Hypnotoxic Laser. It may not seem like much, but 10 Poison damage every turn plus the chance to keep a Pokémon Asleep adds up to a lot of disruption. Many players also use Crobat for some added damage from the Surprise Bite Ability. There's no denying that Quaking Punch is disruptive, so putting some added damage and pressure behind it is a great way to make it even more effective.
Return of the Emerald King
The combination of Virizion-EX and Genesect-EX was powerful enough to win at the 2014 World Championships, but it wasn't having much success in the Expanded format until the final weekend of Winter Regionals. Max Elixir was the difference maker, allowing this strategy to keep up the pace with the speedy decks in today's environment. The idea is fairly straightforward: use Virizion-EX's Emerald Slash attack to power up Genesect-EX and start attacking. If any high-HP Pokémon get in the way, the ACE SPEC card G Booster can provide Genesect-EX with a big 200-damage attack.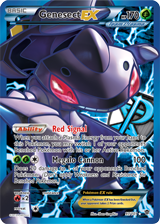 One of the strongest aspects of this deck is Genesect-EX's Red Signal Ability. Attaching a Plasma Energy to Genesect-EX provides the same effect as playing a Lysandre Supporter card. Such a powerful effect can swing games in an instant, and it can be activated just by attaching an Energy for the turn. An easy target is Shaymin-EX, which has 110 HP—and with a Fighting Fury Belt attached, Genesect-EX can take it down with one Megalo Cannon attack. It's tough to say how popular this deck will be, but it's certainly back on the radar as a contender.
There are plenty of other great strategies that could show up at Spring Regionals. Raikou and Eelektrik lead a swarm of non-EX Pokémon to form a hard-hitting deck that has already had some success at Regionals this season. The team of Vespiquen and Flareon was a mainstay of the Expanded format until the last weekend of Winter Regionals, so perhaps a comeback is in store. Mega Rayquaza-EX and Mega Manectric-EX always seem to make a showing, and plenty of other Mega Evolution Pokémon are capable of making noise as well. And don't forget about the pesky duo of Sableye and Garbodor that could still be lurking. You never know what can happen in the Expanded format!
When Fates Collide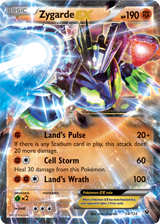 During the final weekend of the 2016 Spring Regionals, the new XY—Fates Collide expansion will be legal for tournament use. It's always difficult to know which cards will make it to the top in competitive play, but there are plenty that have the potential to make a difference.
The Fighting-type trio of Zygarde-EX, Regirock-EX, and Carbink BREAK could make an immediate impact, especially with Power Memory to give Zygarde-EX an extra 200-damage attack. There are plenty of strong Fighting-type Pokémon already, so there's a good chance someone will figure out a way to use them all.
Mega Alakazam-EX and Alakazam-EX could do some major damage in the right circumstances. The Kinesis Ability works hand-in-hand with the Zen Force attack, putting down damage counters to bolster the attack's damage. Alongside Golbat and Crobat, the combination of Abilities and attacks could be devastating.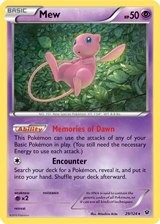 Umbreon-EX could be a tricky addition to Darkness-type decks. A surprise use of the Endgame attack could catch an opponent off guard, snatching a victory with a Knock Out against a Mega Evolution Pokémon for four Prize cards. Mew seems like a natural fit for Night March decks, a non-EX Pokémon to replace Mew-EX since its Memories of Dawn Ability is very similar to the Versatile Ability.
Marowak and its Bodyguard Ability could be a great addition to any deck that struggles with effects of attacks like Seismitoad-EX's Quaking Punch or Giratina-EX's Chaos Wheel. The Chaos Tower Stadium card could help decks that struggle against Hypnotoxic Laser—depending on which way it's facing, it blocks one of the pesky Item card's effects.
Lugia BREAK could be powerful alongside a Pokémon that can give it some extra Energy, such as Eelektrik with its Dynamotor Ability. Lugia's Pressure Ability in conjunction with Lugia BREAK's 150 HP could make it a difficult Pokémon to deal with, and it only gives up one Prize card when it's Knocked Out. Glaceon-EX's Crystal Ray attack can stop strategies that rely on Evolution Pokémon, so it's another card to keep an eye on for the future.
The Spring Regional Championships are an opportunity for players to earn Championship Points and other prizes on the road to the 2016 World Championships. Be sure to check back at Pokemon.com/Strategy for updates from the Spring Regional Championships!