By Christopher Schemanske, contributing writer
Every new expansion of the Pokémon TCG brings its own set of changes to the game, but how they achieve those changes can be pretty varied. In rare instances, such as with the recent Sun & Moon—Cosmic Eclipse expansion, the impact comes mostly from the set's Trainer cards. This time in particular, it's with the numerous awesome TAG TEAM Supporters. All of these cards have powerful effects to begin with, and they let you do even more if you discard extra cards from your hand when you play them. Some of these TAG TEAM Supporters have been able to bring success to older Pokémon that previously had difficulty breaking out—always a sign of a powerful card! Let's take a look at some of these incredible TAG TEAM cards and how they've affected competitive play.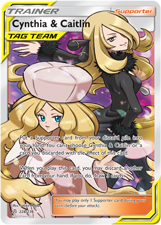 Two of the most important TAG TEAM Supporters have been Cynthia & Caitlin and Mallow & Lana. Cynthia & Caitlin takes two effects that might be unremarkable on separate Supporter cards and merges them into a truly powerful card. Perhaps its greatest value is actually the ability to get more use from other Supporters in a deck on subsequent turns. A cool example is using Cynthia & Caitlin to grab Faba, which can be useful in multiple copies for specific matchups. But because of how limited deck space is, it just doesn't work out. Cynthia & Caitlin allows more efficient use of deck space, serving as "extra" copies of those niche Supporters; drawing three cards is enough of a bonus effect (for a lowly single discard) to make it an acceptable use of a turn's Supporter.
Mallow & Lana has a pretty humdrum base effect, as there are plenty of much easier ways to switch out your Active Pokémon, including the card Switch. The added effect of healing 120 damage is invaluable and irreplaceable to a number of Pokémon-GX decks, though, as it can often erase an opponent's preceding turn entirely! I think a lot of players weren't convinced of its worth at the release of Sun & Moon—Cosmic Eclipse, but Mallow & Lana has proven worthy of inclusion in a variety of decks.
Each of these duos has seen play in a lot of different scenarios, but one deck that both of these TAG TEAM Supporters have helped a lot is Gardevoir & Sylveon-GX. While this TAG TEAM Pokémon-GX has seen varying levels of play since its release, the new Trainer cards from Sun & Moon—Cosmic Eclipse have pushed it over the edge into the competitive spotlight:
Energy Cards
9

Fairy Energy
Trainer Cards
4

Green's Exploration

3

Cynthia & Caitlin

2

Coach Trainer

2

Mallow & Lana

1

Faba

3

Power Plant

1

Chaotic Swell

4

Custom Catcher

4

Pokégear 3.0

4

Tag Call

3

Reset Stamp

3

Switch

2

Energy Spinner

2

Tag Switch

1

Fairy Charm Ability

1

Fairy Charm { Psychic }

1

Great Catcher

1

Island Challenge Amulet

1

Pokémon Communication

1

Rare Candy

1

Unidentified Fossil