Evolve your game with diverse strategies for three different Eevee Evolutions, now as Pokémon VMAX.
One of the most exciting highlights of the new Pokémon TCG: Sword & Shield—Evolving Skies expansion is the inclusion of all of Eevee's Evolutions as both Pokémon V and Pokémon VMAX. Not only is the whole family here, but they also have serious competitive potential.
So for this Triple Play, we're shaking up the format a little—we tasked three brilliant deck builders with creating a deck from a different one of these Pokémon VMAX. The strength of Eevee's evolved forms runs through them all, but each one has its own distinct strategic approaches. If you ever wanted to know just how diverse your approach to winning a Pokémon TCG match can be, look no further than these three fun decks.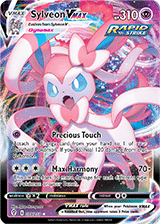 I've centered my deck around the adorable and effective Sylveon VMAX, now a Psychic-type Pokémon (since Fairy types are currently absent from the game). This colorful deck can pack a serious punch, and it can exploit Weakness on multiple of the most popular Pokémon in the format, such as Rapid Strike Urshifu VMAX. Sylveon VMAX's Max Harmony attack gets stronger for every different type of Pokémon on your Bench and maxes out at a solid 220 damage, which is enough to Knock Out most Pokémon V before they evolve. To reach this lofty total, the deck needs a colorful lineup of five different types of Pokémon on the Bench consistently.
Energy Cards
4

Capture Energy

4

Rapid Strike Energy

4

Spiral Energy
Trainer Cards
4

Professor's Research (Professor Magnolia)

3

Boss's Orders (Giovanni)

3

Marnie

4

Tower of Waters

4

Evolution Incense

4

Quick Ball

3

Ribbon Badge