Since the return of two-Prize Pokémon in Black & White—Next Destinies, an incredible number of competitive decks have used these powerful behemoths with their high HP and strong attacks. However, there have been moments when specific one-Prize Pokémon, with their increased efficiency and type advantage, are strong enough to survive against these incredible Pokémon.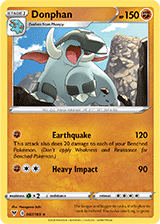 A strong example of these standout one-Prize Pokémon has appeared in the newest expansion, Sword & Shield—Vivid Voltage, in Donphan. It requires only a single Energy to attack but, like many of its peers, has drawbacks in its requirement: it inflicts damage to its own Bench. Still, its strength against certain popular Pokémon that are weak to Fighting-type Pokémon—namely Pikachu & Zekrom-GX, Eternatus VMAX, Dedenne-GX, and Crobat V—makes it worthy of a closer look.
There are multiple ways to feature Donphan in a deck, and surely more to be discovered. Here I'll focus on pairing it with an already familiar card, Spiritomb. Read on to see what makes this deck rumble!
Energy Cards
4

Aurora Energy

3

Darkness Energy

3

Fighting Energy
Trainer Cards
4

Marnie

4

Professor's Research (Professor Magnolia)

3

Boss's Orders (Giovanni)

4

Cape of Toughness

4

Great Ball

4

Quick Ball

4

Switch

2

Great Catcher

1

Pokémon Communication

1

Air Balloon