These two Fusion Strike Pokémon can combine their attacks and Abilities to work together to bring down your opponent.
By Tord Reklev, Contributing Writer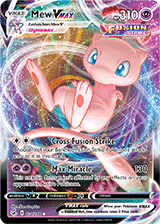 In the short time since its release, the latest Pokémon Trading Card Game expansion, Sword & Shield—Fusion Strike, has already made a massive impact on the metagame. This can be credited specifically to one archetype that emerged from the set: Mew VMAX paired with Genesect V. Using a plethora of the new Battle Style cards with the Fusion Strike label, Mew VMAX has become the deck on everyone's mind. Today, we're going to dive into what makes the deck so powerful and how to best take advantage of the Fusion Strike engine.
Energy Cards
4

Fusion Strike Energy

3

Psychic Energy
Trainer Cards
4

Peony

2

Boss's Orders (Giovanni)

2

Elesa's Sparkle

2

Rose Tower

2

Training Court

4

Cross Switcher

4

Fog Crystal

4

Great Ball

4

Power Tablet

4

Quick Ball

4

Rotom Phone

2

Evolution Incense

2

Switch