An agile Ability and a nimble attack make this Fire-type Pokémon a skillful adversary in the Pokémon TCG.
By Tord Reklev, Contributing Writer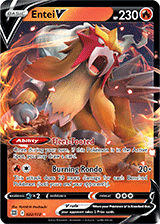 It's an exciting time for the Pokémon TCG as Play! Pokémon events including Regional and International Championships are returning. The new Sword & Shield—Brilliant Stars expansion has made quite an impact on the metagame already, putting the powerful Arceus VSTAR in the spotlight. While it has had a great run, including a victory at the Salt Lake City Regional Championships, the runner-up was another consistent deck, Suicune V. We can take what we've seen from Suicune V's success and apply it to another Legendary Pokémon from Johto, Entei V.
Entei V from Sword & Shield—Brilliant Stars is very similar to Suicune V, featuring the same Fleet-Footed Ability and the same type of attack in Burning Rondo. In addition, the new expansion brings some excellent support for Fire-type Pokémon with the Magma Basin Stadium card. This happens to have perfect synergy with Moltres, also released in Sword & Shield—Brilliant Stars, which does extra damage if it has been damaged. Seeing these cool new options for Fire types, I have remade the Suicune V deck to focus on Entei V and Moltres as the main attackers instead.
Today we're going to dive into this steaming-hot deck: Entei Rush!
Energy Cards
4

Fire Energy

2

Capture Energy

2

Heat { Fire } Energy
Trainer Cards
2

Boss's Orders (Cyrus)

2

Professor's Research (Professor Rowan)

1

Marnie

1

Raihan

4

Magma Basin

4

Level Ball

4

Quick Ball

3

Evolution Incense

3

Rare Candy

3

Scoop Up Net

2

Choice Belt

2

Energy Search

1

Air Balloon