Pokémon-GX, TAG TEAM Pokémon-GX, and other cards depicting the rarest and most powerful Pokémon soak up the spotlight in many powerful decks. But you don't need these Pokémon to be successful in the Pokémon TCG—with some clever support, less-heralded Pokémon can float to the top. Weezing from Sun & Moon—Unbroken Bonds is one such card—the Poison Gas Pokémon is probably best known for being on the wrong side of Pikachu's Thunderbolt early in Pokémon the Series, but its most recent appearance in the Pokémon TCG shows it can be quite formidable.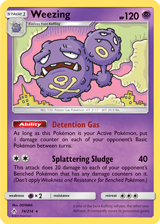 Both Weezing's attack and its Ability focus on spreading damage around the board. As long as Weezing is your Active Pokémon, its Detention Gas Ability allows you to put 1 damage counter on each of your opponent's Basic Pokémon between turns. This is a great way to activate the extra effect of its Splattering Sludge attack, which does 40 damage to the opponent's Active Pokémon and 20 more to each of your opponent's Benched Pokémon that has any damage counters on it.
Most of the cards in this deck are selected to synergize with Weezing's talent for spreading damage around, either by adding even more spread damage or by capitalizing on damaged Pokémon.
Energy Cards
4

Counter Energy

4

Double Colorless Energy

1

Triple Acceleration Energy
Trainer Cards
4

Cynthia

4

Lillie

2

Guzma

3

Shrine of Punishment

4

Mysterious Treasure

4

Nest Ball

4

Spell Tag

3

Pokégear 3.0

2

Escape Rope

2

Rescue Stretcher

1

Adventure Bag