Charizard gets its share of attention each time it makes an appearance in the Pokémon TCG, and its recent pairing with Reshiram in Sun & Moon—Unbroken Bonds has made it the target of collectors and competitive players alike. Not only does the TAG TEAM of Fire types look mighty majestic, but it also forms the anchor of one of the fastest and most powerful decks around.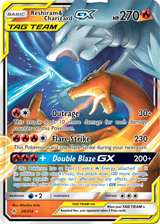 Most competitors building around Reshiram & Charizard-GX also include Volcanion, Victini Prism Star, and Eevee & Snorlax-GX in their decks, but this explosive TAG TEAM has proven successful with several different approaches. Some versions of the deck opt to focus more on Trainer cards, while others instead highlight a wider variety of Pokémon, such as Turtonator and Shining Lugia.
Our list couples Reshiram & Charizard-GX with a powerful Supporter card that's also from Sun & Moon—Unbroken Bonds, Green's Exploration. This card allows you to search your deck for any 2 Trainer cards, but such a powerful effect comes with a catch—it only works when you have no Pokémon with Abilities in play. We won't include any Pokémon with Abilities in our version of the deck to ensure that Green's Exploration keeps the cards flowing, but be sure to check out the Championship Series Event Results to see if one of the variations that includes more Pokémon catches your eye instead.
Energy Cards
12

Fire Energy
Trainer Cards
4

Green's Exploration

4

Welder

2

Guzma

2

Professor Kukui

1

Judge

1

Lt. Surge's Strategy

3

Power Plant

1

Heat Factory ◇

4

Custom Catcher

4

Nest Ball

4

Pokégear 3.0

3

Fiery Flint

2

Choice Band

2

Fire Crystal

1

Escape Rope

1

Switch