Emerging from the darkness, this brilliant deck is ready for the spotlight in the Pokémon TCG.
By Tord Reklev, Contributing Writer
With the release of the Sword & Shield—Chilling Reign expansion, there's one card that's grabbing all the attention and spotlight: Shadow Rider Calyrex VMAX. In looking at the card, it's easy to realize why this was perhaps the most anticipated card of the expansion.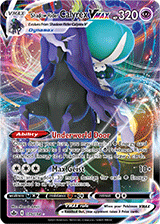 There are some effects in the Pokémon TCG that are, and will always be, immensely powerful, including ways to accelerate Energy cards into play and innovative ways to draw cards. Cinccino and its Make Do Ability have been at the center of certain decks lately, and Malamar with its Psychic Recharge Ability was a force to be reckoned with for years in the past. In a way, Shadow Rider Calyrex VMAX combines both of these powerful effects. Its Underworld Door Ability lets you attach a Psychic Energy card from your hand to a Benched Psychic-type Pokémon and draw two cards for doing so.
It's important to note that Underworld Door can be used multiple times in the same turn if you have multiple Shadow Rider Calyrex VMAX in play. Apart from being an excellent way to accelerate Psychic Energy into play and simultaneously draw cards, this Ability has perfect synergy with the Pokémon's own Max Geist attack. Max Geist does 10 damage plus 30 more for each Psychic Energy attached to all of your Pokémon. Even in an environment as fast-paced as the current Standard format, this deck can rack up Energy quickly enough to Knock Out just about anything in no time.
Read on to get a closer look at the main plan for this deck, as well as some of the card choices for filling it out. Then we'll examine some of the best strategies to combat Shadow Rider Calyrex VMAX. And finally, we'll check out some cards to include in the list to handle those strategies.
Shadow Rider Calyrex VMAX
Energy Cards
13

Psychic Energy
Trainer Cards
4

Marnie

4

Professor's Research (Professor Magnolia)

3

Boss's Orders (Giovanni)

2

Training Court

4

Fog Crystal

4

Quick Ball

3

Switch

2

Air Balloon

2

Evolution Incense

2

Pokémon Communication