The recent Sword & Shield—Vivid Voltage expansion introduces some exciting new Pokémon to the Pokémon Trading Card Game. In particular, Orbeetle VMAX has generated quite a buzz! Like other Pokémon VMAX, Orbeetle VMAX has a powerful attack and a mammoth number of Hit Points. But its seemingly innocuous Eerie Beam Ability is what really sets this Pokémon apart. Trainers have identified numerous ways to capitalize on the damage counters placed by Eerie Beam—often to devastating effects. Some decks focus on Orbeetle VMAX, while others include it alongside Pokémon with complementary attacks and Abilities. Read on to find out how you can make the best use of Orbeetle VMAX in battle.
Switch Up Your Gameplay
Pokémon VMAX are usually lauded for their powerful attacks, and the celebration doesn't stop with Orbeetle VMAX. Its G-Max Wave attack does 50 damage plus 50 more for each Energy attached to the opponent's Active Pokémon. Most Pokémon-GX and Pokémon V require at least two or three Energy to perform their most powerful attacks, which means G-Max Wave can pack a serious punch for fewer resources than its peers. However, this isn't the only reason Orbeetle VMAX has caught everyone's attention.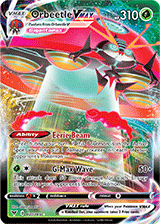 The special thing about Orbeetle VMAX is that it can weaken the opponent's Pokémon without using an attack. Its Eerie Beam Ability puts one damage counter on each of the opponent's Pokémon. Eerie Beam can be used up to four times in the same turn if you have enough Orbeetle VMAX in play. It won't take long before those damage counters put the opponent's Pokémon in range of a one-hit Knock Out with G-Max Wave...or add up to a Knock Out on their own!
The caveat with Eerie Beam is that each Orbeetle VMAX can use this Ability only once per turn, and only when it's in the Active Spot. This means any deck that includes Orbeetle VMAX should also include lots of cards that enable the player to switch or retreat their Pokémon. Don't be surprised to see an Orbeetle VMAX deck list with multiple copies of Item cards such as U-Turn Board, Air Balloon, and Switch, as well as Supporter cards like Bird Keeper and Mallow & Lana.
Bird Keeper has a special interaction with Rowlet. When a Bird Keeper is played from the hand, Rowlet can use its Wind Shard attack even if it doesn't have the right Energy attached. Rowlet's synergy with Bird Keeper, and its capacity to deal the finishing blow to Pokémon that have been weakened by Eerie Beam, make it the perfect partner for Orbeetle VMAX.
Let's take a look at a deck list that focuses on Orbeetle VMAX:
Energy Cards
4

Capture Energy

3

Aromatic { Grass } Energy

2

Grass Energy

2

Weakness Guard Energy
Trainer Cards
4

Bird Keeper

4

Marnie

2

Boss's Orders (Giovanni)

2

Cynthia & Caitlin

2

Mallow & Lana

2

Turffield Stadium

4

Crushing Hammer

4

Quick Ball

4

Switch

2

Evolution Incense

2

Lillie's Poké Doll

2

Reset Stamp

2

U-Turn Board

1

Tool Scrapper