With the release of each expansion, players worldwide begin scouring the new cards to find ways to improve their decks. The game can feel completely changed every three months, with new cards arriving to challenge the victorious decks of expansions past. Some of these strong cards—Quick Ball, Professor's Research, and Boss's Orders, to name a few—are flexible and can make their way into most decks to boost consistency. The other category of strong card is the powerful Pokémon that constitutes its own deck, such as Mewtwo & Mew-GX, Zacian V, and Dragapult VMAX. And now, Eternatus VMAX adds itself to that list.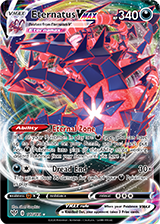 Longtime fans might notice similarities across eras from the Pokémon TCG. Right now, it seems there are plenty of them between Sword & Shield—Darkness Ablaze and XY—Roaring Skies. For example, Eternatus VMAX and Crobat V have similar effects as Mega Rayquaza-EX and Shaymin-EX, respectively. Back then, Mega Rayquaza-EX was a strong deck when paired with Sky Field to boost the maximum damage output. Eternatus VMAX does it one step better, increasing the maximum Bench space to 8 with its Eternal Zone Ability, at the cost of having only Darkness-type Pokémon in play. This is no major obstacle due to Galarian Zigzagoon and Crobat V being so valuable to this deck. These cards add damage and draw power to the already-powerful Eternatus VMAX. Most importantly, they fill the Bench to reach the maximum 270 damage per attack.
Here's a sample list with inspiration from Isaiah Bradner's success in recent online tournaments.
Energy Cards
7

Darkness Energy

3

Hiding { Darkness } Energy

1

Capture Energy
Trainer Cards
4

Boss's Orders (Giovanni)

4

Marnie

4

Professor's Research (Professor Magnolia)

4

Dark City

4

Quick Ball

3

Great Ball

3

Pokémon Communication

2

Dangerous Drill

2

Pokégear 3.0