Find out how this Water-type duo uses speed and flexibility to crown a winning Pokémon TCG combination.
By Xander Pero, Contributing Writer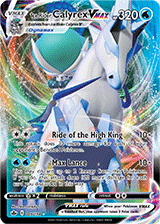 Fast, reliable attacks are necessary for a top-tier deck in today's metagame. Games are shorter than ever before, and a potential deck idea must be ready for the speed of the Standard format. This is evident when you look at how many Pokémon can Knock Out Pokémon V and Pokémon VMAX in a single attack! So let's fight fire with fire—or in this case, water—with Ice Rider Calyrex VMAX from the latest expansion, Sword & Shield—Chilling Reign. We'll first look at how this deck works in the current Standard format, then offer ideas on how to play it after the format rotates in September.
Ice Rider Calyrex VMAX only needs 2 Water Energy to begin attacking for up to 250 damage. These numbers rival that of Eternatus VMAX, which requires a full board of Darkness-type Pokémon to reach a similar damage output. If multiple roads lead to the same destination, why not take the shortest path? By requiring less cards in your deck but still doing similar damage, there's room to include another Water-type sidekick: Inteleon, from Sword & Shield.
Energy Cards
9

Water Energy
Trainer Cards
4

Marnie

4

Melony

3

Boss's Orders (Giovanni)

1

Professor's Research (Professor Juniper)

3

Path to the Peak

4

Evolution Incense

4

Quick Ball

3

Level Ball

2

Capacious Bucket

2

Reset Stamp

1

Air Balloon

1

Switch

1

Tool Scrapper