Since the release of the Pokémon TCG: Sword & Shield—Darkness Ablaze expansion, top Trainers from around the globe have sought to develop the best deck using the powerful new Pokémon V and Pokémon VMAX featured there. Given the name of the expansion, it is no surprise that many Trainers set their focus on the new Darkness-type Pokémon Eternatus VMAX. Decks featuring this card quickly found their place at the top of online competitions. But the last word of the expansion might give a clue to the next up-and-coming deck. Hot on the proverbial heels of Eternatus VMAX is the Fire-type Pokémon Centiskorch VMAX. Read on to learn more about the strategy behind the Centiskorch VMAX deck and find out how you can use the Radiator Pokémon to set the darkness ablaze.
The Core of the Deck
Fire-type Pokémon are well-known for having attacks that can do huge amounts of damage to the opponent's Active Pokémon—and Centiskorch VMAX is no exception. Its G-Max Centiferno attack does 40 damage plus an extra 40 for each Fire Energy attached to it. Provided with enough Fire Energy, Centiskorch VMAX can Knock Out any Pokémon in one hit!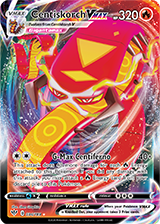 Attacks that do more damage when additional Energy is attached to the attacking Pokémon are certainly not new to the game. Heatran-GX, Blacephalon-GX, and Magcargo-GX are all recent examples of Pokémon with attacks that operate this way. However, while many Pokémon suffer a penalty for using this kind of powerful attack, such as the requirement to discard their Energy, Centiskorch VMAX gains an advantage. If G-Max Centiferno does damage to your opponent's Pokémon, you may choose to attach a Fire Energy from your discard pile to Centiskorch VMAX.
The most effective way to quickly attach Fire Energy to Centiskorch VMAX is by using the Welder Supporter card. Usually, players are permitted to attach only one Energy card to their Pokémon on their turn, but Welder attaches two more. This card has become a staple in many victorious decks of late—the winning decks from the 2019 Pokémon World Championships and the two most recent International Championships each included four Welder—the maximum number of copies. To make the best use of Welder, the Centiskorch VMAX deck includes cards such as Giant Hearth, Fire Crystal, and Energy Spinner, all of which put Energy cards into the hand.
To drive home just how important it is to get Energy onto Centiskorch VMAX, most variations of the deck also include Volcanion. This Pokémon's Flare Starter attack is a great way to attach additional Fire Energy to Centiskorch VMAX, especially at the beginning of the game.
Now that we understand the core of the deck, take a look at this sample list inspired by Kashvinder Singh Mann's creation.
Energy Cards
12

Fire Energy
Trainer Cards
4

Welder

2

Boss's Orders (Giovanni)

1

Marnie

1

Professor's Research (Professor Magnolia)

3

Giant Hearth

4

Quick Ball

4

Switch

3

Pokémon Communication

3

Scoop Up Net

2

Fire Crystal

2

Pokégear 3.0

1

Reset Stamp

1

Tool Scrapper