Find out how this fearsome Fusion Strike deck's straightforward and powerful approach can work in your next match.
By Robin Schulz, Contributing Writer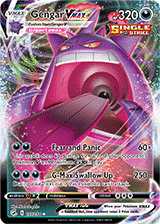 Since the release of the Sword & Shield—Fusion Strike expansion, Mew VMAX and the Fusion Strike engine have been all the rage. But this isn't the only Battle Style to receive support in the latest expansion. We've already taken a look at Rapid Strike Inteleon VMAX, and now we'll turn our attention to a notable new Single Strike Pokémon—Gengar VMAX! It is not only a powerful card in its own right, but Gengar VMAX is also a Darkness type, which gives it a natural advantage against the aforementioned Mew VMAX. Let's take a look at how to build a deck around this new Single Strike powerhouse.
Energy Cards
4

Hiding { Darkness } Energy

4

Single Strike Energy
Trainer Cards
4

Marnie

4

Professor's Research (Professor Magnolia)

3

Boss's Orders (Giovanni)

1

Piers

1

Zinnia's Resolve

3

Tower of Darkness

4

Evolution Incense

4

Great Ball

4

Quick Ball

4

Urn of Vitality

3

Switch