By Contributing Writer Xander Pero
One major effect of the introduction of TAG TEAM Pokémon-GX and now Pokémon V is the decline of Evolution Pokémon in competitive play. Now that these Basic Pokémon usually have similar HP to evolved Pokémon (or even more), we've seen most decks built around them rather than around Evolutions. Even a deck like Malamar/Giratina, a Stage 1 deck, uses Malamar as support for its Basic Pokémon attackers. Moreover, Stage 1 and Stage 2 Pokémon require additional work to get into play, often requiring multiple turns of evolving or Rare Candy. These constraints limit the speed and consistency of Evolution decks, something TAG TEAMs and Pokémon V don't have to deal with.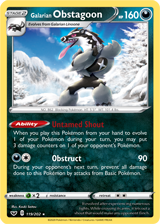 One Pokémon has caught on enough to bring back hope to Stage 2 fans: Galarian Obstagoon. It has a respectable 160 HP, and its Untamed Shout Ability is reminiscent of the popular Crobat from XY—Phantom Forces. But its true strength lies in its Obstruct attack. Obstruct does 90 damage and prevents attack damage done to Galarian Obstagoon by Basic Pokémon on the opponent's next turn. With Basic Pokémon making up a majority of the meta, you can easily see why this attack is so powerful. Galarian Obstagoon's capability to succeed is directly proportional to the popularity of Basic Pokémon-reliant decks.
Galarian Obstagoon has already proven itself to be a strong contender after Tim Bartels played it to a 3rd-place finish at the Oceania International Championships, where 42 of the 48 decks in Day 2 relied on Basic Pokémon to attack. The deck has a favorable position in the current meta, and I don't imagine that changing anytime soon.
Check out an example deck list featuring Galarian Obstagoon:
Energy Cards
9

Darkness Energy
Trainer Cards
4

Professor's Research (Professor Magnolia)

3

Marnie

3

Rosa

4

Lillie's Poké Doll

4

Quick Ball

4

Rare Candy

3

Great Ball

3

Switch

2

Escape Board

1

Counter Gain

1

Evolution Incense

1

Great Catcher

1

Ordinary Rod