One of the best things about the Pokkén Tournament Championship Series is that it's given relatively unknown players the opportunity to make names for themselves. Nowhere has that been more apparent than the Germany Nationals, which saw three amazing players push each other to their limits in Kassel last weekend.
It wasn't only new and unheralded players making an impact in Germany—Pokémon that hadn't seen a lot of action also rose in prominence. At previous Championship events, Sceptile and Blaziken have dominated the competition, but the German tournament saw three new Pokémon enter the fray. From glass-cannon Shadow Mewtwo to zoning-specialist Gardevoir, these fighters provided a brand-new look at Pokkén Tournament that spectators may have missed by focusing on previous competitions.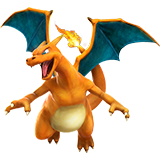 The finals kicked into high gear when Acco "Dark" Bartels matched up against Lion "Schiggy" Meier, the former utilizing Shadow Mewtwo and the latter sporting Charizard. From the beginning, it was readily apparent that Bartels wanted nothing to do with Charizard's close-range game, opting to secure space with fireballs from the outset and punish whenever the classic Fire-type Pokémon got too aggressive. This damage was compounded by Shadow Mewtwo's deceptive grab range, which allowed Bartels to quickly whittle away Meier's higher health total and even the odds.
Due to the inherent HP advantage, however, Meier was able to take damage from Bartels's Shadow Mewtwo as he closed the gap with Charizard. This disparity, coupled with the HP recovery available to Meier from the Cresselia assist, allowed him to take a greater number of risks and close the gap Bartels desperately needed to maintain. A clutch Burst Attack gave Meier the advantage, and his total disrespect of Shadow Mewtwo's Synergy Burst proved to be the difference in the match. While Bartels would return to his projectile-heavy strategy, key critical hits and the ability to power through Shadow Mewtwo's devastating energy pillars gave Meier an open path to the grand finals.
Dropping down to the losers' bracket, Bartels was forced to face Justin "Justinpig" Miller for a second time. Earlier in the winners' bracket, Bartels dropped Miller to the losers' bracket, and now he was the only thing standing in the way of his rematch against Meier in the grand finals.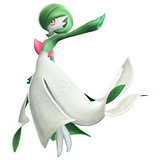 As a Gardevoir player, Miller's focus is on staying out of range, whittling down opponents with long-distance fireballs. Both players did just that as the match began, feeling each other out with projectiles. Miller would prove to be better early on, taking advantage of Shadow Mewtwo's low health, but Bartels was far from out of the match. By utilizing his Synergy gauge effectively, it was rare to see Shadow Mewtwo out of Synergy Burst, allowing Bartels greater maneuverability and offensive options compared to the slow and steady Gardevoir.
Taking advantage of Miller's wariness to act during Shadow Mewtwo's Synergy Burst, Bartels strode across the playing field unchallenged, using his Pokémon's movement to threaten Gardevoir, without throwing a single attack. This slow, methodical play on Bartels's part consistently pressured Miller into unfavorable situations, and Miller was unable to deal with the depleting timer. Shadow Mewtwo's grip on the match was perfectly encapsulated in its ending: a dash-in grab to seal the deal for Bartels and earn him a rematch against Meier in the grand finals.
Coming in from the losers' bracket, Bartels had quite an uphill battle ahead of him. Due to already losing once, he would need to take two full sets to walk away as Champion, while Meier only had to win one. Going up against this challenge can often shake a player's resolve, but Bartels looked confident and ready to use what he learned in his last match with Meier in their next bout.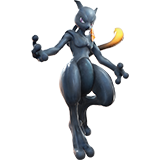 The match started out similarly to previous clashes as Bartels set the pace early on, maintaining distance with Shadow Mewtwo's various projectiles and punishing Charizard when Meier made any mistake. By baiting an attack and punishing with Shadow Mewtwo's Burst Attack, Bartels showed that he was no longer afraid of getting in Charizard's face, a tendency that continued on throughout their numerous games.
Despite going down a game to Meier, Bartels wasn't fazed. He would go on to win two straight games and reset the bracket with a combination of clutch predictions and smart Synergy Burst usage, countering much of what Charizard was able to throw out. Much like we've seen at other tournaments, however, this contest came down to the final round of the final game.
As the match wore on, it looked to be entirely in Charizard's favor. Bartels would go for a sneaky Burst Attack, only to be stuffed by Meier's grab. But much like we saw in his match against Miller, Bartels's control of the arena during Field Phase was a huge game-changer. Upon losing the health advantage, there wasn't much Meier could do to catch up to Shadow Mewtwo, and Bartels would take home the gold in a heart-stopping victory.
"It was definitely a very close game," Bartels told commentator Ryan "Prodigal Son" Hart after the grand finals. "After I lost, I looked back on my game, and I realized I gave 'Schiggy' way too much space. I gave his Charizard too much respect, I didn't throw out enough projectiles, and I didn't pressure him enough in duel phase." These adjustments are what allowed Bartels to overcome the climb of winning out of the losers' bracket.
For his efforts, Bartels has earned a spot at the Pokémon World Championships later this year, making up for a ninth-place finish at the UK Nationals. Good luck!