Players from over 30 countries gathered in London, England, for the first ever Pokémon International Championships. Nearly 500 Pokémon TCG Masters Division players competed for the title of European International Champion, which included a $10,000 grand prize and 500 Championship Points—enough to automatically qualify for the 2017 World Championships. The top 4 ranked players from the North America, Europe, Latin America, and Oceania rating zones all received a Travel Award to London, meaning the best of the best were in attendance. With these great players came an impressive variety of winning decks and strategies. Read on as we break down the exciting action from London.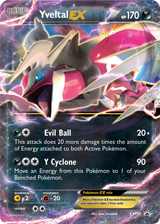 Heading into the event, there was a clear deck to beat in the Standard format. The timeless and tournament-tested combination of Yveltal-EX and Garbodor had won two Regional Championships in the US so far, and it had several great results in Europe as well. The idea is relatively simple: Garbodor's Garbotoxin Ability shuts down any strategy that wants to use Abilities, and Yveltal-EX can overpower just about any Pokémon with its Evil Ball attack. With Max Elixir to get extra Energy into play and Yveltal to target opposing Pokémon-EX, it's difficult to deal with everything this deck has to offer.
Despite the overwhelming popularity of Yveltal/Garbodor decks, 12 different styles of decks were used among the 32 competitors that advanced to Day Two of the tournament, and there were some surprises along the way. Several Volcanion-EX decks did well, including two finishes in the Top 8: Attar Ricco from Indonesia, who was a Senior Division semifinalist at the 2016 Pokémon World Championships, and Pedro Eugenio Torres from Spain. Many players had written off the Steam Pokémon, but its raw power continues to give it a place in the metagame.
Greninja BREAK decks also found success, with one Top 8 spot going to Grafton Roll from the US. Even with Garbotoxin shutting down Greninja BREAK's Giant Water Shuriken Ability, Grafton's deck list was clearly tailored to beat Yveltal decks. Yveltal-EX has a difficult time taking down the 170-HP Greninja BREAK in one attack, especially with a slew of Enhanced Hammer and Team Flare Grunt discarding its Energy, so Max Potion is incredibly effective at preventing the Yveltal player from taking Prize cards.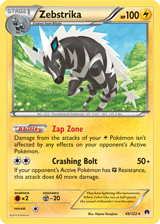 There was a big buzz in the room about Alex Hill's unusual deck featuring Vespiquen and Zebstrika. Vespiquen succeeding in tournament play is nothing new, but Zebstrika's appearance certainly is. This Pokémon is useful in only a handful of situations, but it was a perfect call for this event: Zebstrika's Crashing Bolt attack does extra damage against the super-popular Yveltal-EX and Shaymin-EX because of their Resistance to Fighting, and their Weakness to Lightning doubles that damage to 220 for a one-hit KO. After an 8–1 start on the first day of the tournament, Alex seemed like a lock to make the Top 8. Unfortunately, he ended up in 9th place, missing the Top 8 by just a few percentage points of a second tiebreaker: not just Opponent's Win Percentage, but Opponent's Opponent's Win Percentage. Had he gotten into the Top 8, the European International Championships might have had a different outcome.
When all was said and done, Darkness prevailed. Five of the Top 8 decks were Yveltal/Garbodor, and all of the players in the Top 4 were using it. This led to several exciting and back-and-forth mirror matches. The first saw Tord Reklev from Norway triumph in a breathtaking three-game series against top-seeded Yee Wei Chun from Malaysia in the Top 8. The next match featured Tord taking on the 2010 Senior Division World Champion, Jacob Lesage from Canada. Once again, it was an extremely close match, but a game-changing Team Flare Grunt from Jacob sparked a comeback in the second game, and Jacob advanced to the finals.
The other side of the bracket was a battle between two incredibly talented players. Philip Schulz from Germany, runner-up at November's Regional Championships in Dortmund, Germany, faced off against Michael Pramawat from the US, one of the game's most decorated and successful players. Michael is in a unique class of players, winning countless Regional and State Championships during his career, but he had yet to get that major tournament win. He suffered a devastating defeat in the finals of the 2010 World Championships against Yuta Komatsuda, and he fell just short of becoming the 2014 US National Champion, losing to Brandon Salazar in the finals.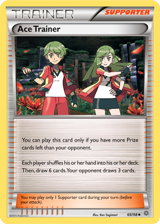 In the first game, Philip's deck failed him early on, and Michael surged ahead. The German player did his best to make a comeback, but his deck's lack of momentum-shifting cards such as Enhanced Hammer or Team Flare Grunt meant that Michael would eventually claim victory as long as he could keep playing down Energy on his Pokémon—and he did just that, despite having his hand disrupted constantly by Philip's Ace Trainer and N. The second game was a reversal of the first, with Michael falling behind early and then attempting to make a comeback. Michael almost got there, but he was just 10 damage short of a match-winning Evil Ball attack, and Philip forced a third game. In the deciding game, Michael's Yveltal dictated the pace of the match, dishing out damage everywhere with the Pitch-Black Spear attack. Philip's deck stumbled again, and Michael joined Jacob in the finals.
The finals was an epic showdown between two North American players who had arguably their best seasons in 2010. That year, Jacob Lesage was the World Champion in the Senior Division, and Michael Pramawat was the runner-up in the Masters Division. In the finals, Jacob found only a Trubbish when setting up for the first game, and Michael was able to take it down on the second turn for a quick win. Jacob got out to a much better start in second game, but Michael halted his momentum with a nasty combination of Enhanced Hammer and Team Flare Grunt to discard all of the Energy from Jacob's Yveltal-EX. Jacob's deck sputtered from there, and Michael took a commanding lead that never relented. And just like that, Michael Pramawat became the first ever Pokémon TCG European International Champion.
The Yveltal/Garbodor domination wasn't limited to the Masters Division. Tanner Hurley from the US used this deck to win the Senior Division, and Kaya Lichtleitner from Germany used it to win the Junior Division. Right now, it's clearly the deck to beat in the Standard format. With more Regional Championships coming up, it will be interesting to see how players respond to this trend. Will Yveltal continue to win, or will new counter-decks emerge?
Be sure to follow all the latest Pokémon TCG news and strategy at Pokemon.com/Strategy!