Building a Pokémon TCG deck on your own is no easy task. With so many cards available to use, it's your job to pick out 60 cards that work together to create a winning strategy. How do you decide which ones to use? How many Pokémon, Trainer, and Energy cards should you be playing? Depending on the strategy your deck is using, the answers to those questions can vary. In this article, we'll discuss some basic guidelines that can help you unleash the full potential of your deck, and then we'll look at some example decks that put these guidelines into action.
The first step is to choose the Pokémon to build your deck around. After that, come up with a clear strategy to take advantage of your Pokémon's strengths. From there, you can choose the best cards that help you execute your strategy.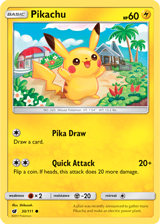 If you want to use a deck with evolved Pokémon, remember you'll have to include their previous Evolutions as well. As a general rule, you should use similar numbers of an evolved Pokémon and the one it evolves from. For example, a deck with three Raichu should also include three Pikachu. Try to focus on just one or two Evolution chains, since they can take up a lot of deck space. Including a lot of different Pokémon means you won't have room for the Trainer and Energy cards you need.
Once you choose your Pokémon, you can figure out how many Trainer and Energy cards to play. A typical deck with Evolutions will have 16–20 Pokémon, leaving room for about 30 Trainers and 12 Energy. On the other hand, a deck that uses only Basic Pokémon may have only 10–14 Pokémon, meaning you can play even more Trainers and Energy.
Building on the Basics
Here's an example of a popular Pikachu & Zekrom-GX deck that features only Basic Pokémon.
Energy Cards
11

Lightning Energy
Trainer Cards
4

Guzma

4

Lillie

3

Volkner

1

Cynthia

1

Aether Paradise Conservation Area

1

Thunder Mountain ◇

4

Electropower

4

Ultra Ball

3

Energy Switch

3

Nest Ball

2

Choice Band

2

Escape Board

2

Switch

1

Escape Rope