This impressive Pokémon TCG duo combines power and versatility to deliver massive victory potential.
By Xander Pero, Contributing Writer
One of the hottest and most hyped cards to come from the Sword & Shield—Brilliant Stars expansion is Arceus VSTAR. This Pokémon is rolling the competition, and it's not just one particular deck. As you'll see, the strength of Arceus VSTAR is not just in power or a specific skill, but in its flexibility.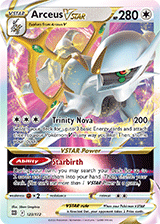 With its VSTAR Power, the Starbirth Ability, you can search for any two cards in your deck. It almost goes without saying that this is an incredibly powerful effect! Like all VSTAR Powers, it comes with the condition of only being usable once per game. But you can swing the game in your favor on any given turn, which is the reason why Arceus VSTAR is one of the top decks out there currently.
Another great trait of Arceus VSTAR is its Colorless typing. Because its attack requires only Colorless Energy, you can pair Arceus VSTAR with other Pokémon of any type. There are merits to many different types, though the three main ones to consider are: Fighting, Darkness, and Water. Fighting-type Pokémon can attack your opponents' Arceus VSTAR for Weakness, and Darkness-type Pokémon can attack the popular Mew VMAX for Weakness. However, here I'll be talking about a version that uses Water Energy to pair it with two different Inteleon.
Alongside the different Energy types, Arceus VSTAR also greatly benefits from the newly released Double Turbo Energy. Though its drawback reduces the damage of Trinity Nova by 20 damage, being able to attack on turn two just through manual Energy attachments, without having to play Melony and use up a Supporter, is too good to pass up. Plus, Choice Belt can not only offset but exceed the reduced damage, and 210 damage is enough to Knock Out most Pokémon V. For times when it's not, the deck has access to Galarian Zigzagoon from Sword & Shield and Inteleon from Sword & Shield—Chilling Reign, which can tack on the remaining damage needed to score a Knock Out.
And I have yet to mention the greatest part of Trinity Nova: additional Energy attachment. With one attack, you can fully power up an additional Arceus VSTAR on the Bench. Provided you don't run out of Energy, you can keep attacking with Arceus VSTAR once you've used Trinity Nova once. Other decks need to continuously worry about powering up their next attacker; Arceus VSTAR does not.
Energy Cards
7

Water Energy

4

Double Turbo Energy
Trainer Cards
2

Boss's Orders (Cyrus)

2

Cheren's Care

2

Marnie

1

Melony

1

Professor's Research (Professor Rowan)

3

Path to the Peak

4

Level Ball

4

Quick Ball

3

Evolution Incense

2

Big Charm

2

Choice Belt

2

Scoop Up Net

2

Ultra Ball

1

Capacious Bucket

1

Pal Pad