Travel between the real world and the virtual world of Pokémon with Pokémon GO for iPhone and Android devices. With Pokémon GO, you'll discover Pokémon in a whole new world—your own! Pokémon GO gives you the chance to explore real locations and search far and wide for Pokémon. More and more Pokémon from the Pokémon universe continue to appear around the globe, including rare and powerful Legendary Pokémon.
As you move around the places where you live and visit, your smartphone will vibrate to let you know you're near a Pokémon. Once you've encountered a Pokémon, take aim on your smartphone's touch screen and throw a Poké Ball to catch it—but be careful, or it might run away! Also look for PokéStops located at interesting places—such as public art installations, historical markers, and monuments—where you can collect more Poké Balls and other items.
Customize Your Trainer
When you first play Pokémon GO, you'll get to customize the look of your Trainer, choosing apparel and accessories to give him or her a cool look. Your customized Trainer will appear as you move around on the map and on your profile page. Other players will also see your customized Trainer when they visit a Gym you control.
Add to Your Pokédex
In Pokémon GO, you will gain levels as a Trainer. At higher levels, you'll be able to catch more powerful Pokémon to complete your Pokédex. You'll also have access to stronger items to heal your Pokémon after battle, improved Poké Balls to give you a better shot at catching Pokémon, and useful Berries. Keep exploring and encountering Pokémon to raise your level.
There are other ways to add Pokémon to your Pokédex. If you catch the same species of Pokémon enough times, you'll get the opportunity to evolve one! And you may find Pokémon Eggs at PokéStops, which will hatch once you've walked a certain distance with it in an incubator, perhaps resulting in a Pokémon you've never seen before.
Some wild Pokémon will appear more often in certain places near where you live or around the world. For example, some Water-type Pokémon may have a better chance of appearing near lakes and oceans. If you're away from home, stay alert for Pokémon you wouldn't normally encounter.
The wild Pokémon you'll encounter is also influenced by the weather. For example, more Flying-type Pokémon will appear when it's windy, and more Fire-type Pokémon will show up when it's sunny. Plus, these Pokémon may be stronger than usual, making them perform better in battle!
Join a Team and Battle
At a certain point in the game, you'll be asked to join one of three teams. Once you join a team, you'll gain the ability to assign Pokémon you've caught to open Gym locations or to a Gym where a teammate has assigned a Pokémon. Like PokéStops, Gyms can be found at real-world locations. Each player can place only one Pokémon at a particular Gym, so you'll need to work together with other members of your team to build up a strong defense.
If a rival team has claimed a Gym, you can challenge it by using Pokémon you've caught to battle the defending Pokémon. You choose which of your Pokémon will join in. Each Pokémon has two attacks, and can also dodge the defending Pokémon's attacks if you swipe left or right. If your Pokémon win the battle, the motivation of the defending Pokémon is reduced. When the motivation of each defending Pokémon drops to zero, the defending team loses control of the Gym, and you or another player can then take control of it by assigning a Pokémon to defend it.
You can tackle a wide variety of challenges in different categories, such as catching Pokémon and exploration. By completing these challenges, you'll unlock achievement medals that will appear in your player profile. Try your best to unlock as many medals as you can!
Raid Battles
Take on tough Pokémon in exciting Raid Battles at select Gyms. These Raid Bosses are more difficult to battle than the Pokémon you'd ordinarily catch in the wild—so tough that you'll need to join up with other Trainers to take them on. If you can defeat the Raid Boss, you'll earn items you can't get anywhere else, as well as a chance to add the powerful Pokémon to your team.
Look for exclusive EX Raid Battles, where you'll be able to go up against some of the most iconic and sought-after Pokémon, including amazing Legendary Pokémon. EX Raid Battles are a little different in that you'll need an EX Raid Pass to participate. You can get these by participating in regular Raid Battles at a variety of Gyms and by earning gold Gym Badges.
Pokémon GO Plus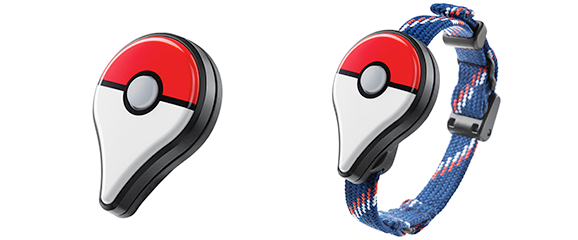 A portable device called the Pokémon GO Plus enables Pokémon GO players to enjoy the game even when they're not looking at their smartphones. The device connects to a smartphone via Bluetooth and notifies the player about events in the game—such as the appearance of a Pokémon nearby—using an LED and vibration. In addition, players can catch Pokémon or perform other simple actions by pressing the button on the device.
iPhone AR+ Mode
Dive deeper into the fun of Pokémon encounters with AR+ mode, a feature available on iPhone 6s and newer models running iOS 11 or higher. AR+ mode takes Pokémon GO's augmented reality feature even further by placing the Pokémon you encounter firmly into the scene in front of you. With AR+, you can get closer to a Pokémon to make it easier to catch, or line up the perfect picture. But be careful as you approach the Pokémon, or you might scare it off!
Free to Play
Pokémon GO is available for download at no charge on the App Store and Google Play. Pokémon GO is free to play, with loads of fun things to do and Pokémon to discover at every turn. For players who want to enhance their Pokémon GO experience even more, certain items and features can be accessed via in-app purchases. Players can spend real money on PokéCoins, the in-game currency of Pokémon GO. PokéCoins can then be exchanged for power-ups, extra items, and more.
Photo Fun
When you encounter a Pokémon in the wild, you can turn on the camera feature, putting the wild Pokémon into the live scene where your camera is facing. Line up your shot and hit the shutter button to take the photo. The snapshot will then be saved to your smartphone for you to share however you'd like.
Music by Junichi Masuda
Pokémon GO features all-new music composed by GAME FREAK's Junichi Masuda. Mr. Masuda has worked on Pokémon games since the very beginning and has composed many of the classic and memorable songs that have inspired fans for decades.
Buddy Pokémon
With the Buddy Pokémon feature, you can choose a favorite Pokémon from your collection to travel at your side, opening up in-game rewards and experiences. Your Buddy Pokémon will appear alongside your Trainer on your profile screen and reward you with helpful bonuses—including Candy—as you walk with it.
Visit the Pokémon GO official site for more details.
©2016–2018 Niantic, Inc. ©2016–2018 Pokémon. ©1995–2018 Nintendo / Creatures Inc. / GAME FREAK inc.