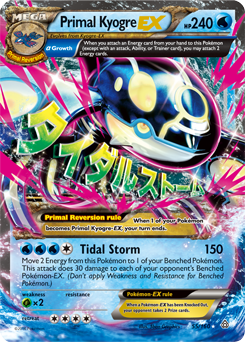 Ancient rivals awaken in the Pokémon TCG: XY—Primal Clash expansion! After centuries asleep, the deep power of Primal Groudon-EX erupts from the land as Primal Kyogre-EX crashes in from the sea, riding titanic waves into battle! With colossal new arrivals like Mega Gardevoir-EX and Mega Aggron-EX, the XY—Primal Clash expansion is alive with the primordial power of Ancient Traits—plus all-new Spirit Link and Special Energy cards. Let the earth shake and the oceans thunder, and get ready for a primal clash like no other!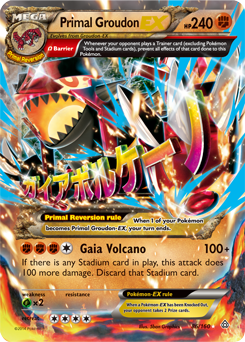 Features of XY—Primal Clash:
Primal Reversion makes its TCG debut with Primal Kyogre-EX and Primal Groudon-EX

12 new Pokémon-EX, including Sharpedo-EX, Trevenant-EX, Wailord-EX, and Camerupt-EX

Ancient Traits, which give Pokémon certain advantages in battle, appear for the first time

More than 25 Trainer cards, including four full-art rare Ultra cards and two Special Energy cards

Two new theme decks: Earth's Pulse and Ocean's Core

Each theme deck and booster pack contains a code card that unlocks digital cards from XY—Primal Clash for play in the Pokémon Trading Card Game Online
Look for the XY—Primal Clash expansion in stores and on PokemonCenter.com starting February 4, 2015.