The Pokémon TCG: XY—Flashfire expansion is now available!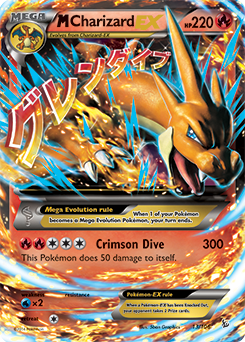 Blaze your way to glory and watch the sparks fly when you battle with cards from the Pokémon TCG: XY—Flashfire expansion. Ignite the action with a firestorm of Fire-type Pokémon and watch your opponents' terrified double-take as the awesome Mega Charizard-EX makes its scorching debut in this breathtaking expansion. Your explosive adventures will continue as your foes flee the field with certain doom flashing before their eyes!
The XY—Flashfire expansion contains over 100 cards, including five new Pokémon-EX and three new Mega Evolution Pokémon.
Features of the Pokémon TCG: XY—Flashfire Expansion:
New Mega Evolution Pokémon—The expansion features two powerful versions of Mega Charizard-EX (one Fire type, one Dragon type) and more

Five new Pokémon-EX cards—Charizard-EX leads the charge of powerful new Pokémon-EX to battle with

New Pokémon—Over 25 Pokémon from the Pokémon X and Pokémon Y video games appear in the XY—Flashfire expansion

15 new Trainer cards—New Item, Supporter, and Stadium cards bring increased depth and player strategy to competitive battles
The complete XY—Flashfire expansion will be available to play in the Pokémon Trading Card Game Online at www.pokemon.com/tcgo! Plus, each XY—Flashfire theme deck and booster pack includes a code card that unlocks virtual cards from the XY—Flashfire expansion for your virtual collection.