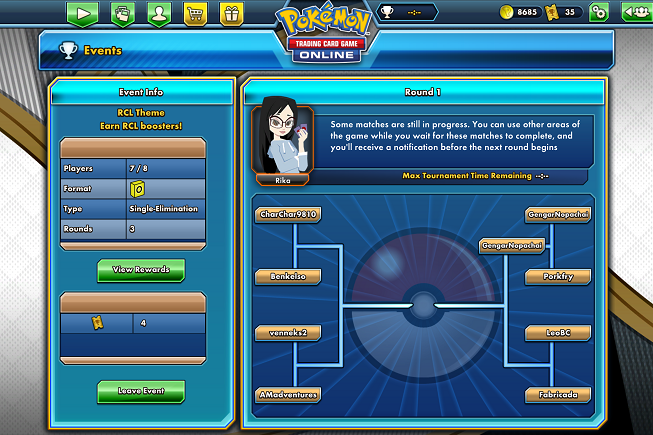 Pokémon Trading Card Game Online tournaments allow players to compete in exciting 8-person, single-elimination tournaments for cool rewards. You can play using a variety of deck formats, giving you the opportunity to compete however you'd like. Everyone who competes in a tournament will earn rewards, no matter where they finished in the tournament!
Compete Anywhere, Anytime!
Players can access tournaments directly from within the Pokémon TCG Online application. The desktop, iPad, and Android versions of the app support tournaments, so as long as you have an internet connection, you can start competing wherever you are.
Rather than beginning at a specific date and time, a tournament starts as soon as 8 people are signed up to play. A new waiting list begins as soon as the previous tournament gets under way. This means new tournaments are always starting, so you can start playing in new events whenever you want!
Win Cool Rewards!
The reward for top event finishers includes in-game digital items such as booster packs, Trainer Tokens, and reward chests. Rewards vary by event, so check the tournament's info panel before you join!
Each tournament requires Event Tickets for entry. Event Tickets can be earned via the game's Daily Bonus, playing matches in Versus Mode, or as a random reward at the conclusion of tournament matches.
Choose Your Format!
Tournaments are separated into three deck formats: Standard, Expanded, and Theme Deck. The first two formats follow the same deck construction rules used at live Play! Pokémon events. In the Theme Deck format, players must compete using a preconstructed theme deck.
Standard: Decks follow the same construction rules as the current Play! Pokémon Standard format, typically including expansions released within the past two years.

Expanded: Decks can contain cards from the Black & White expansion or later.

Theme Deck: Players can only use preconstructed theme decks.
Special Events
In addition to regular tournaments, look forward to special events where players can compete for in-game rewards. Stay tuned to Pokemon.com for more information on these events.
Ready to compete in tournaments? Download the Pokémon TCG Online application today!