Regirock, Regice, and Registeel are reuniting and returning to raids in Pokémon GO. If you haven't caught all of them yet, this is the perfect chance to fill up your Pokédex. Players will also have the opportunity to purchase a special ticket that will grant early access to encounter Regigigas, the Colossal Pokémon, for the first time in Pokémon GO.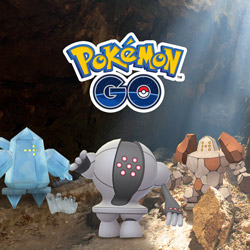 From Friday, November 1, 2019, at 1:00 p.m. to Monday, November 4, 2019, at 1:00 p.m. PDT, Regirock, Regice, and Registeel will be available to encounter in five-star raids. To help boost your forces to take on these Legendary Pokémon, Geodude, Magnemite, Swinub, Aron, and Spheal will appear more frequently in the wild. You'll also find Aerodactyl, Shuckle, Sneasel, Skarmory, Snorunt, and Beldum hatching more frequently from Eggs.
As a bonus, Eggs placed into Incubators during this event will only require half as much distance to hatch. Plus, if you're lucky, you might even encounter Shiny Skarmory, Shiny Regirock, Shiny Regice, or Shiny Registeel!
Encounter Regigigas in Special Research
Regirock, Regice, and Registeel aren't the only Legendary Pokémon emerging. You can also gain access to a limited-time experience where you'll face a variety of tasks to earn an encounter with the mighty Regigigas—before it debuts in EX Raids later in November!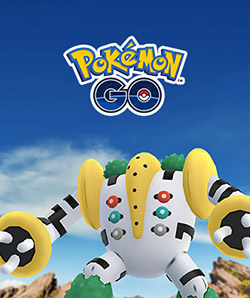 This Special Research story event will be available on Saturday, November 2, 2019, from 11:00 a.m. to 7:00 p.m. in your local time zone with the purchase of a ticket. By purchasing a ticket with real-world money, you are granted access to a unique experience to play during the specified time period. You'll also earn some fantastic rewards:
An early-access encounter with Regigigas in Pokémon GO for the very first time in a new Special Research story event

A Colossal Discovery medal

Up to 10 additional Raid Passes at no cost during the Special Research story event time period when you spin a Photo Disc at a Gym (these Raid Passes will not be available after the event period is over, and you cannot hold more than one Raid Pass at once)

A Unova Stone, a Sinnoh Stone, and an exclusive avatar pose from conducting the Special Research
Purchasing a ticket will grant you access to Special Research titled A Colossal Discovery. Once you receive the Special Research by logging in during the event time on November 2, you will be able to finish it at a later time if you don't complete it by the end of the event. However, for an optimal gameplay experience, we recommend trying your best to complete the research on Saturday, November 2, 2019, from 11:00 a.m. to 7:00 p.m. in your local time zone.
Plan accordingly to take down Regirock, Regice, and Registeel in five-star raids, as you will need to catch them to help complete this Special Research. Gather fellow Trainers and be prepared to take on a lot of Raid Battles to make the most of the event.
But don't worry, Trainers—if you're unable to participate in this colossal event, you can look forward to Regigigas coming to EX Raids next month!
For more details about this event, check out Niantic's Pokémon GO support page. Get ready for an exciting weekend of raids in November, Trainers!