We're getting ready for fun events on February 27, better known around the world as Pokémon Day! It's the day the first games in the Pokémon video game series, Pokémon Red and Pokémon Green, debuted in Japan in 1996. Recognized by fans around the world, it's the perfect time to celebrate the world of Pokémon.
But before we can get there, we need input from every Pokémon fan. With the help of Google, we're holding a Pokémon of the Year competition where you can vote for your favorite Pokémon. The voting period is from Wednesday, February 5, at 6 a.m. PST through Friday, February 14, at 5:59 a.m. PST.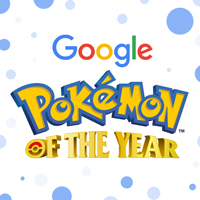 To participate, search for "Pokemon vote" on Google. The voting screen will be displayed in your search results. Select the category you want to vote on from the eight choices. Then select one Pokémon from the list (sorted by National Pokédex number) and click the vote button. When you're signed in to your Google account, you can cast one vote per category for a maximum of eight votes daily. You can vote only once in each category per day, but you can vote each day during the voting period. Votes will be counted based on the Pokémon's National Pokédex number, even for Pokémon that have multiple forms, including regional forms.
Pokémon GO is getting a head start on the Pokémon Day excitement. Starting on Tuesday, February 25, keep an eye out in the wild for Pikachu and Eevee donning their party hats, as well as Bulbasaur, Charmander, and Squirtle sporting the same festive look and hatching from 7 km Eggs. In celebration of the Pokémon Day launch of the movie Pokémon: Mewtwo Strikes Back—Evolution on Netflix, special Pokémon clones including Venusaur, Charizard, and Blastoise will start to appear in Raid Battles. Plus, be sure to take a lot of pictures—you might notice that clone Pikachu will want to be in the shot, too. Finally, each day you'll be able to complete two Special Trades instead of just one. There may be even more special events on the way, too, so check back soon for details. These events will take place every day through Monday, March 2.
Look forward to even more Pokémon Day fun, including the big reveal of a special, newly discovered Pokémon! There will also be news and updates for Pokémon Masters. Some special Max Raid Battles in Pokémon Sword and Pokémon Shield will also launch that day. And remember, the full-length movie Pokémon: Mewtwo Strikes Back—Evolution will arrive on Netflix on Pokémon Day, too.
Be sure to visit Pokemon.com regularly as we'll have updates as to what you can expect on Pokémon Day.