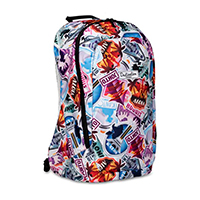 Travel in style with the new Destination Pokémon collection available in the Pokémon Center. This new product line showcases the known regions of the Pokémon world with beautiful designs reminiscent of vintage travel posters. The images depict iconic locales from each region, such as the majestic Bell Tower in Johto and the expansive Skyarrow Bridge in Unova, along with Pokémon you might find there.
Destination Pokémon has everything an adventurous Pokémon fan could ask for—the backpack is perfect for a quick day hike or longer sightseeing excursion, and it's easy to take note of your travels in the colorful mini journals. And don't forget to fill up the travel tumbler so you can hit the road with your favorite beverage! Finally, you'll be sure to stand out from the crowd with the Destination Pokémon stickers—the set includes a sticker for each known region.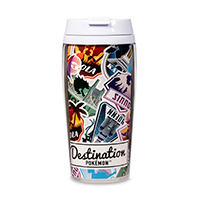 Not in the mood to travel? You don't have to be planning a getaway to enjoy Destination Pokémon. The collection also features a set of seven beautiful posters that are ready to be framed and hung on your wall at home, school, or work.
Bon voyage, Trainers, and take a look at the amazing Destination Pokémon collection in the Pokémon Center today!