'Tis the season for gatherings with friends and family and decking the halls with festive décor. And the Pokémon Center is ready to help you celebrate the most wonderful time of the year with the wonderful, whimsical Winter Wonders Collection, coming soon. Stay warm and stylish with accessories and apparel including headbands, scarves, beanies, sweaters, and onesie pajamas. Make your house merry and bright with décor and home goods that include tree skirts, stockings, candles, and so much more.
When the weather is frightful, it's all the more important to create a cozy atmosphere at home. Let your favorite Pokémon help to make the season bright with holiday classics from tree skirts to stockings. Choose between a Pikachu, Delibird, Gardevoir, or Togekiss stocking, or get one of each for friends and family. If you're planning on gathering around the tree, why not make sure it's covered in adorable Pokémon? Get individual ornaments featuring the adorable Pikachu, Eevee, or Piplup having a blast in the snow, or go all out with a set of 12 elegant round ornaments, each etched with a different Pokémon.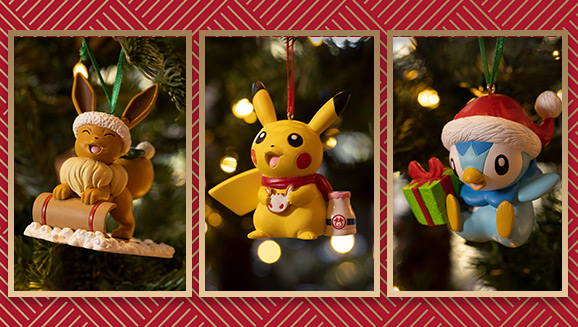 It's all aboard the Delibird Holiday Express Train as a festive parade of Pokémon make their way home for the holidays! Aipom, Chespin, and Sobble enjoy plates of holiday cookies, along with some MooMoo milk. Jigglypuff, Cubone, and Wooloo show admirable restraint by not opening any presents before they're supposed to. And Slowpoke takes a much-needed nap from the holiday festivities atop a gingerbread house that Munchlax has decided to snack on. Captured in vivid detail, the Delibird Holiday Express Train series adds a playful touch to your holiday décor. It also makes for easy gifting as there are multiple cars to choose from, including the engine, flat car, box car, and caboose.
Whether you're offering a multi-course feast or gathering for some holiday movies and themed snacks, the Pokémon Center has tasteful tableware to help set a festive scene. From a bamboo cutting board to make the prep work fun to themed candleholders, there are countless ways to incorporate Pokémon into your holiday tablescapes.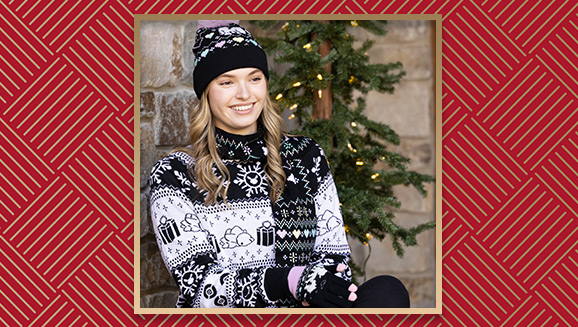 Walking in a winter wonderland is a blast, but it can get a bit chilly. Fortunately, the Pokémon Center has everything you need to stay toasty for all your favorite holiday activities, whether indoors or outdoors. Matching knit headbands, gloves, scarves, and beanies make for adorable and practical accessories for all sorts of outdoor fun. Choose between Pikachu, Galarian Ponyta, or a Poké Ball festive winter print, or mix and match for a colorful effect. Complete your look with a knit sweater featuring beloved Pokémon such as Pikachu, Eevee, Snorlax, Stantler, or Snom. Better still, get one for each of your friends and family members so you won't have to choose.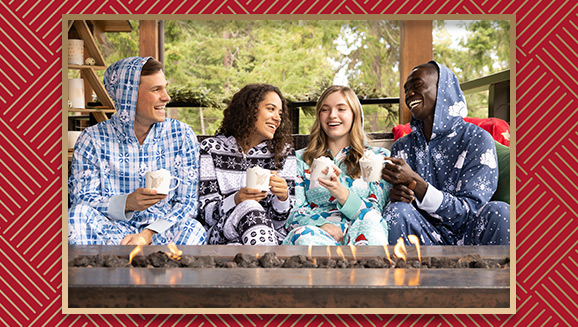 Whether you're looking to make a festive statement at your next holiday party or to just stay comfortable and happy while hanging out at home, the Pokémon Center's hooded onesie pajamas are the ultimate in comfort and whimsy. These picturesque pajamas will make holiday activities as memorable as the Pokémon they feature—Snorlax, Vanillite, or Snom.
Jingle bell rock on over to the Pokémon Center for delightful décor, amazing apparel and accessories, tantalizing tableware, and so much more! To receive ground shipment orders within the United States by December 24, place your order by December 10 at 12 p.m. PST.