Being a Pokémon TCG player is loads of fun, but it often requires loads of supplies. Playmats, binders, snacks, and decks—the list is longer than an Onix. Fortunately, the Pokémon Everyday Bags collection is here to save the day with a laptop tote bag, waist bag, shoulder bag, toiletry bag, duffel bag, and even a TCG backpack. These styles are available now at Pokémon Center. Whether you're traveling to your next Pokémon tournament or are just out and about catching Pokémon with friends, these bags can help ensure you have the necessary supplies.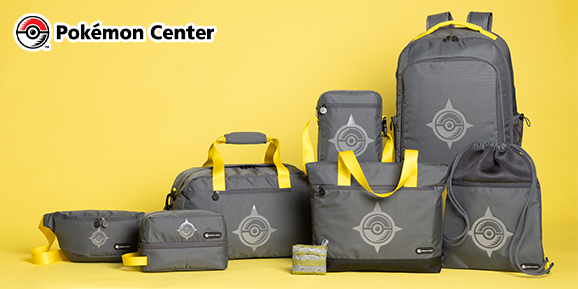 To celebrate the release of Pokémon Everyday Bags, we visited the Pokémon League at Uncle's Games in Redmond, Washington, to ask players about their Pokémon TCG origin stories, aspirations, favorite Pokémon, and must-have supplies for Pokémon open play sessions. Here's what they had to say:
Dion Johnson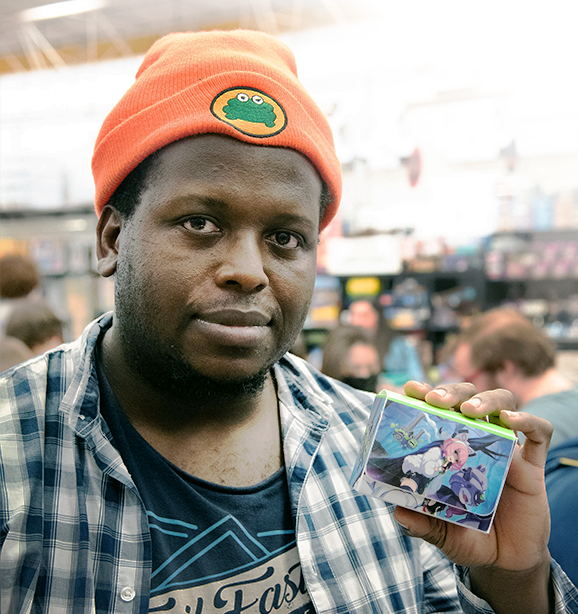 How did you decide which deck you were going to bring today?
I came back from taking a little break, and I was brainstorming—thinking of some of the classic Pokémon matchups. I saw this one really wacky control deck, and I was looking at some of the cards and wondering if I could create a variation of that, which uses Komala.
When did you start playing the Pokémon TCG?
The first major time I went to a League was at the start of the Black & White Series. It was convenient for me since I only knew rules from the Base Set era. Black & White made a few changes to make it more like Base Set, so I felt comfortable playing it.
What's your favorite Pokémon?
My favorite Pokémon is Mimikyu, and I'm hoping to brainstorm a deck that can use one. Outside of this, I'm working on a Pikachu deck that tries to cheese out Pikachu V-UNION, too.
Jake Koster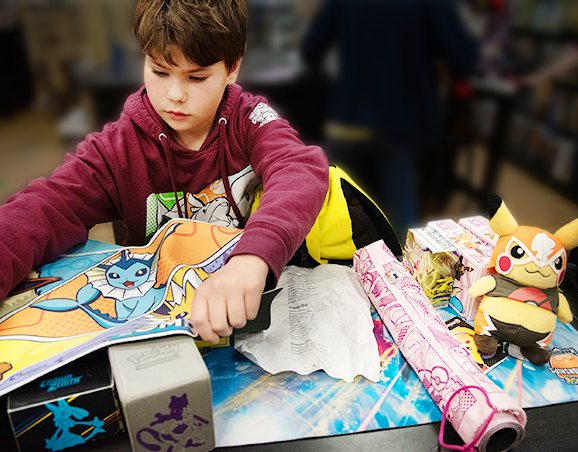 What do you bring to Pokémon League?
If I go to a Regionals, I usually don't bring a binder because I don't have time to trade. But if I'm going to a local event, I'll usually bring my binders, dice, and two or three decks and a playmat. If I'm going to a Regionals or sometimes locals, I'll have my Pokémon plushies with me. I want to make sure that I have water to drink and stay hydrated. I like to bring one or two snacks to a tournament, too.
I usually bring about four to five decks. I usually know what deck I'm going to play before [an event], but if I play against people after a tournament, then I can use my other decks. And I usually have spare sets of sleeves in case sleeves break during a tournament.
When did you start playing?
I've been playing for six months. I've been collecting since I was four years old, and I just went to a local card shop and saw that they were playing and it looked pretty fun. I got a deck and started playing, and I've liked it since then. I had Pokémon Battle Academy, so I knew the basics of how to play, but I eventually ended up learning the strategy.
You've done well at past tournaments; what are your goals?
I'm aiming to go to Worlds; I have 187 Championship Points, so I'm only 13 CP away. I came in 47th out of 152 players at [the Europe International Championships]. I played Giratina VSTAR against three Lugia VSTAR decks, which was not a great matchup for me.
Fiona Lin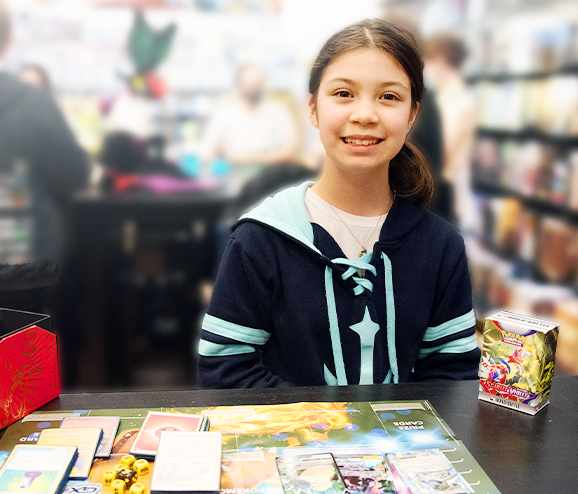 What do you bring to Pokémon League?
I do have the basic essentials, and I carry around extra cards so that I can swap things out of my deck. I bring the occasional extra cards for trading.
How do you decide what to play?
Me and my sister play with our decks, and we play against each other. I usually play this deck. Sometimes I switch out Pokémon to make my deck better after I play against other people here. I upgrade it as I go and I get more experience, which is great.
Who wins more between you and your sister?
My little sister wins more.
How long have you been coming to Pokémon League? What do you think of Pokémon League?
We've only been coming for three weeks. The best thing is that I get to play with other people and learn their strategies so that I can better customize my own deck.
What's your favorite Pokémon?
Fire-type and Electric-type Pokémon. I'm the most fond of them.
April Marcuzzo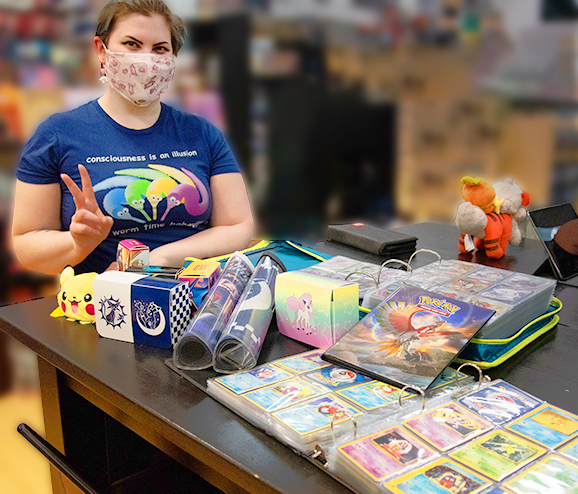 What decks did you bring today?
I have a couple of extra decks on me today. I usually have at least two or three of my own decks. I like the variety. I usually play Expanded format, so most of my decks are going to be that.
When did you start playing?
I've technically been playing since 1999. I was in a Pokémon League back in 1999–2000, but my siblings grew out of it and I didn't have anyone to play with, so I got back into playing a little later on.
What other decks have you been working on?
My partner is way more competitive than I am, so I built Turbo Dark Darkrai VSTAR and Lost Zone Giratina decks for him. My decks are usually a bit quirkier. I have a Pawmot deck right now with Dynamotor Flaaffy and Fluffy Pillow Mareep so that I can sleep stall. I built Gardevoir ex for Standard format and playtested it to see if I wanted to play it, but I'm not loving it. I have Aerodactyl VSTAR; I miss Korrina because she was so good. I also have a Dustox deck which focuses on poison; if I have the perfect Bench out, I can do over 150 damage with just poison.
What else did you bring with you?
I bring two of my collection binders with me for stuff that I am looking for. I have a binder where all the cards are in Pokédex order. I have another binder with really important cards and like two pages of Umbreon, which is my favorite Pokémon.
Zach Stanley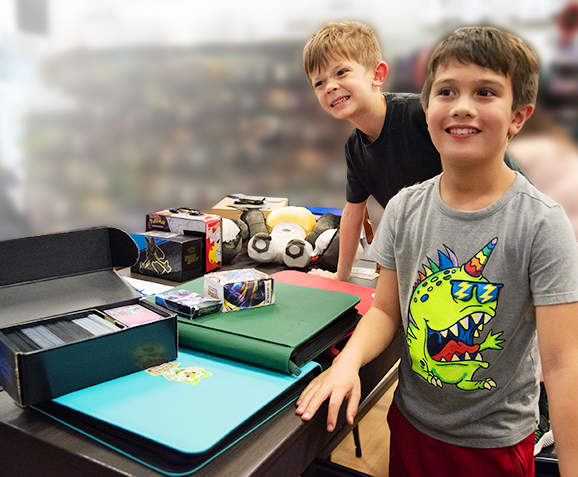 What did you bring with you to League?
I have a binder at home, but those are cards that I'm never going to trade. Usually, I bring three decks. I just beat someone with this Mew deck I brought.
How long have you been playing the Pokémon TCG?
A year and a half. I remember that my first card was Galvantula.
What's your favorite Pokémon?
My favorite Pokémon are Lunala, Inteleon, Garchomp, and Drampa. I just think they're cool.
Turner Tackitt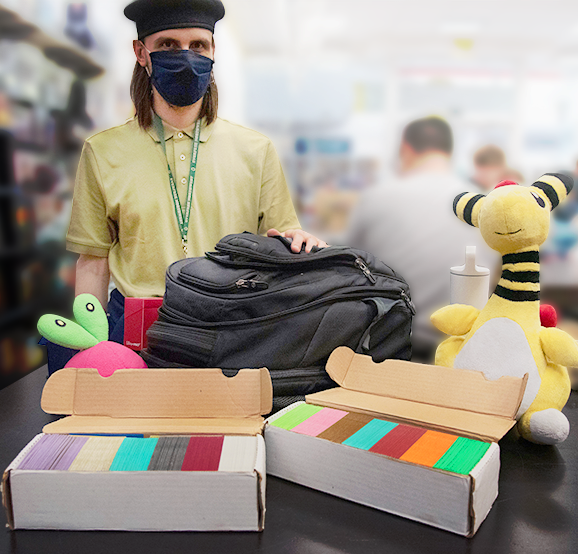 What did you bring with you to League?
This bag is basically luggage. There's even more going on in the other pockets. Inside here, I have a box with tons of decks, and then in these other boxes, I have even more decks. There's no real organization; the deck kind of just goes wherever the deck fits.
Why do you bring so many decks?
I like having a lot of variety for my opponents, which are usually skill levels ranging from casual to competitive players. If my opponent is just figuring things out, maybe I shouldn't bring out something super powerful. I also get bored with decks very quickly, so I like being able to go, "You know what, I'm just going to start playing this deck now." Each deck tends to be something different entirely.
How do you approach deck building?
Usually, I research decks online—especially when it comes to tracking decks in Japan. I am very much a tinkerer and am also a player of the Unlimited format, which includes every card ever. I have this deck filled with cards from the Diamond & Pearl era, and it was the first deck I built that was not terrible, so it has a lot of sentimental value.
When did you start playing the Pokémon TCG?
I've been playing since 2007. I saw people just playing with the cards randomly, like deciding who won based on which Pokémon had the highest HP. That experience turned me on to trading card games in general, especially Pokémon. I like to stick to League level because it's something chill after work.
What's your favorite Pokémon?
I don't have a single favorite Pokémon, but Ampharos is one of my favorites.
Allyson Wen,
Pokémon TCG Judge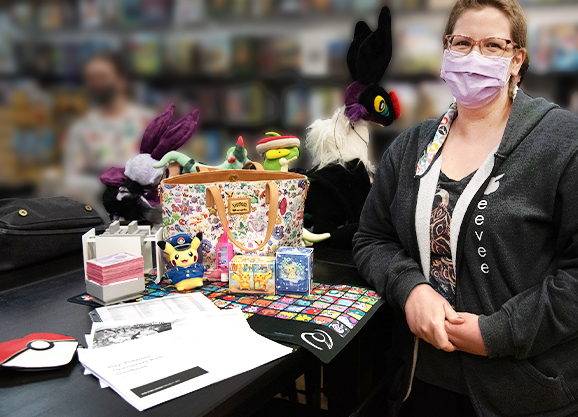 When did you become a Judge?
I've been a Judge since February 2018. I took the Professor exam around that time.
Were you a player before?
I became a player because my kid was. They were going to spend a whole day at one of the Regional Championships, so I was like, "OK, I'm not going to sit around—I'm going to play." It was my first-ever tournament, and I had no idea what I was doing. I didn't know about Weakness and stuff until at the end of one of my rounds; my opponent told me that I could have ended the game quicker.
I started judging at local events like League Challenges and League Cups. My first judging experience that wasn't a League Challenge or League Cup was actually at [the North America International Championships] and then Worlds. I judged the Portland Regionals, and I'll be applying to staff Worlds, too.
What's your favorite Pokémon?
Eevee! I drive an EV, and I have an Eevee plush in my car.
The Pokémon Everyday Bags collection is available at the Pokémon Center.