Competitors and fans at the 2018 Pokémon World Championships opening ceremony in Nashville, Tennessee, got a surprise treat when cast members of the first-ever live-action Pokémon movie, POKÉMON Detective Pikachu, came to the stage. The Pokémon Company president Tsunekazu Ishihara introduced movie director Rob Letterman and actors Justice Smith and Kathryn Newton to talk a little about the upcoming film.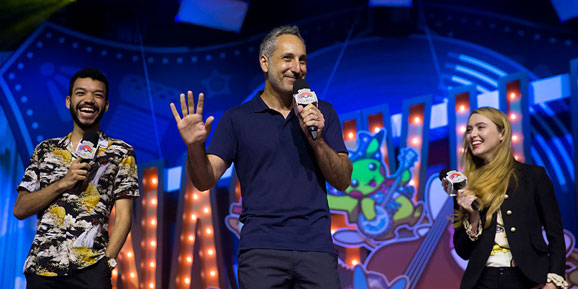 Slated to launch in 2019, POKÉMON Detective Pikachu is a live-action adventure mixed with CGI Pokémon, and it stars Ryan Reynolds as the voice of Pikachu. Other big names in the cast include Bill Nighy, Rita Ora, Ken Watanabe, and Suki Waterhouse, in what is sure to be an exciting cinematic event next year.
Fans even got a chance to lend their voices to the film. Letterman led a chant of the attendees shouting out "Pikachu!" and "Charizard!" The audio was recorded for use in the movie.
Afterwards, we had the opportunity to sit down and chat with Justice and Kathryn about their history with Pokémon and their experiences working on the new film.
It turns out that Justice, who plays Tim Goodman in the movie, was quite the Pokémon gamer in his youth, having put plenty of time into both Pokémon Gold Version on the Game Boy Color (the first video game he ever played) and the Pokémon Trading Card Game.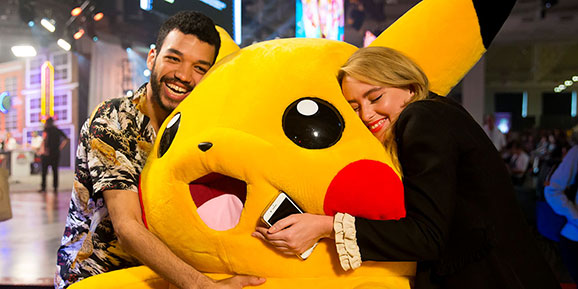 When she was younger, Kathryn, who plays Lucy Stevens, would often go exploring while wearing one of her first possessions—a Pikachu backpack. Pokémon inspired Kathryn's creative spirit, as well. "It also really got me into drawing. I would draw all the Pokémon, and I still do that. So, it's pretty exciting to be a part of this big family," she says.
The two stars both reminisced about watching the climax of Pokémon: The First Movie during their childhoods. They were clearly moved by Pikachu's tears when Ash was turned to stone towards the end of that film.
When discussing the production of POKÉMON Detective Pikachu, the stars were very proud of the surprising amount of stunt work that they performed. Although they were a bit coy about any specific details (they wanted to avoid spoilers, of course!), Kathryn says "I felt like Tom Cruise. It's like an action film."
Kathryn then joked about her experience working with Pokémon on the movie set. She claimed she was delighted when she found out "what a great listener and actor Psyduck is. Every day it just blew me away with its listening skills. We don't even speak the same language, but it just understands me."
Look forward to more details on POKÉMON Detective Pikachu as its 2019 launch draws closer!