Article updated March 7, 2023.
With the discontinuation of the Nintendo eShop service for the Nintendo 3DS family of systems, the Pokémon Bank service for Nintendo 3DS will become available at no cost to users. You will still be able to transfer the Pokémon you've deposited in Pokémon Bank to Pokémon HOME even after the paid service is discontinued, and you'll still be able to bring Pokémon into Pokémon Bank from compatible titles. However, you'll need to be enrolled in a paid Pokémon HOME Premium Plan to do so.
On March 27, 2023 at 5:00 p.m. PDT, Pokémon Bank's paid passes will no longer be offered for purchase, at which time Pokémon Bank and Poké Transporter will no longer be available to download. On the same day, Trainers will be able to start using Pokémon Bank at no cost. Be aware that there will be no refunds for paid passes that have already been purchased.
Note that players will see an in-game "Free trial period!" message followed by a line that says "?XX days.", where XX is a number between 00 and 99. This line can be ignored.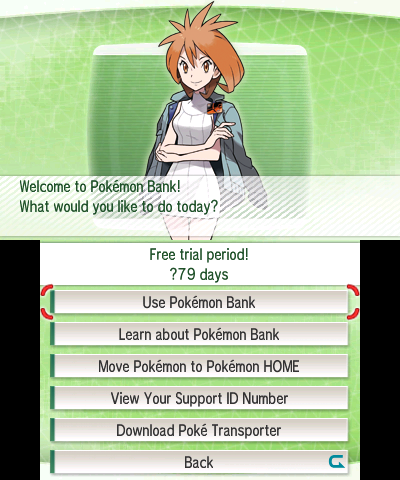 There is no end date planned for this no-cost service. Any further changes will be announced in advance on Pokemon.com and elsewhere.