The holidays are quickly approaching, and you can make the season even more festive by celebrating with Pokémon! The Pokémon Center has all sorts of wonderful new items that will bring smiles to everyone. Pikachu, Charmander, and Sylveon are here to help you get into the holiday spirit with a trio of delightful new plush featuring the adorable Pokémon decked out in their holiday best.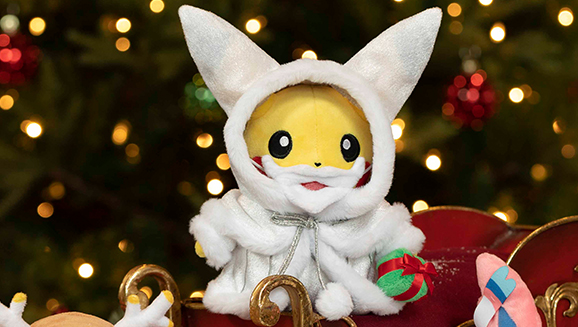 You'll also find plenty of goodies to decorate your home in Pokémon style. Poké Ball string lights and a Poké Ball tree topper will bring colorful shine to your home, and you can decorate your tree with a cute Eevee ornament and tree skirt featuring Pikachu and Eevee. If you're feeling a bit chilly, don a snuggly sweatshirt featuring Pikachu, Vulpix, or Delibird and curl up under a warm Eevee throw.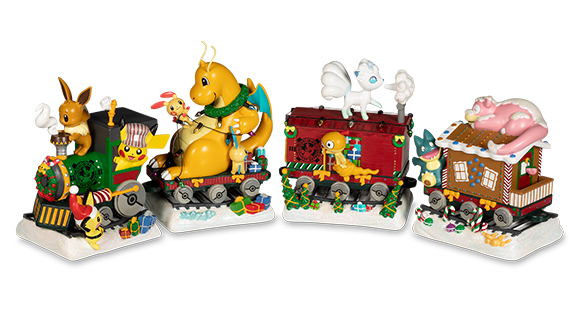 The Pokémon Center is also debuting a special line of collectible holiday train cars. A new train car will be available for purchase every Monday in November. Once you have all four train cars, you can arrange them together to form a wonderfully whimsical scene. There are plenty more great holiday surprises to be found at the Pokémon Center, including some popular items that are available only in limited quantities, so be sure to check out the entire line!
As a special gift, you can receive a reusable Pikachu shopping bag with the purchase of one or two items; purchase three or more items, and you'll receive a larger bag as a gift. These bags are available while supplies last, and be aware that preorder items and Funko purchases are not eligible for the gift offer. To stay up to date on new items at the Pokémon Center, remember to subscribe to the Pokémon Trainer Club newsletter. Happy holidays, Trainers!