Can you feel that chill in the air? That's the cool, haunting spirit of Halloween creeping up behind you. The most frightfully fun time of the year is coming, and the Pokémon Center is ready for the occasion with all sorts of great new festive Pokémon items!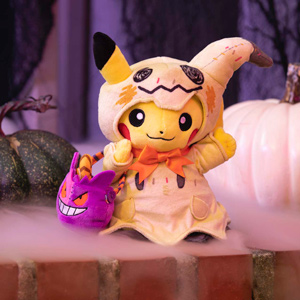 The Pokémon Pumpkin Parade line of huggable plush and portable plush key chains features Pokémon decked out in all sorts of whimsical costumes. The plush assortment features Lucario, Celebi, and Pikachu (disguised as Mimikyu!), while the smaller plush key chains highlight Bulbasaur, Charmander, Squirtle, and Zorua.
With the Pokémon Halloween line, get yourself dressed for the occasion with a petrifying purple T-shirt adorned with Gengar's sinister grin. Add a pair of pins depicting Pikachu and Gengar looming menacingly over some familiar-looking pumpkins, and you're ready to step out in spooky style! The Pikachu and Gengar theme continues with a comfy fleece throw and a Pokémon TCG playmat that will keep the Halloween mood going even when the celebrations end. There are even festive door decorations featuring the pair along with a variety of Pokémon-themed pumpkins.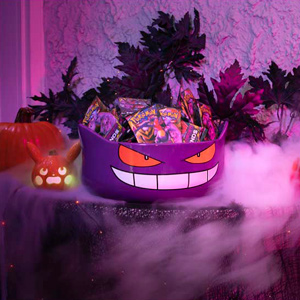 That's not all—a few more items arriving soon at the Pokémon Center include pumpkin Pikachu ceramic tea light holders and a matching Gengar mug and ceramic treat bowl, all perfect as home decorations for the holiday. Be sure to visit the Pokémon Center often to see when these cool items will arrive.
As a bonus, customers will receive a Pikachu and Gengar Halloween treat bag with the purchase of any Halloween item! Don't miss your chance to get these new goods at the Pokémon Center, and be sure to subscribe to the Pokémon Trainer Club newsletter to stay up to date on the latest Pokémon Center releases!