Noted skateboard designer Bear Walker creates works that combine incredible craftsmanship with wild creativity. The result is boards that are equal parts functional skate equipment and stunning works of art. He's following up his initial collaboration with the Pokémon Center to create a second series of limited-edition Pokémon-themed skateboards that will be arriving at the Pokémon Center on September 22, 2020.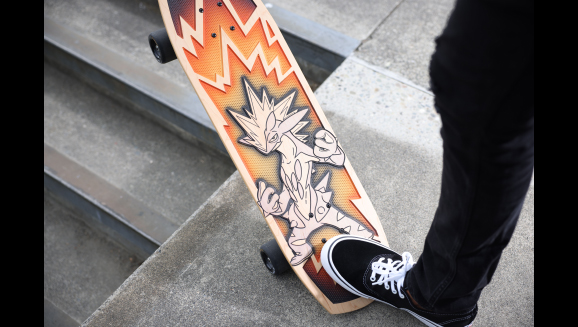 There will be five new handcrafted boards available, each featuring a beloved Pokémon: Mew, Rayquaza, Toxtricity, Togepi, and Umbreon. The contrast of the boards' bold background colors and the muted tones of the Pokémon themselves make these eye-catching boards stand out whether you bring them to the skate park or hang them on your wall. Speaking of which, the Pokémon Center will also have wall mounts available if you plan to display these boards as the fine art that they are.
Remember, these new Pokémon Center × Bear Walker skateboards will be arriving at the Pokémon Center on Tuesday, September 22, 2020. They'll be available in limited quantities, so don't miss out! You can also subscribe to the Pokémon Trainer Club newsletter for updates on upcoming releases and other Pokémon Center news.