Pokémon: Twilight Wings, the recent limited animated series, provides a unique look into the lives of the people and Pokémon who reside in the Galar region. Taking a deeper look, we're talking to some of the minds behind the scenes to learn more about what inspired them when creating the series, which is now available to watch on Pokémon TV and the official Pokémon YouTube channel. To kick off this four-part series of interviews, we dive into the deep world of concept art and color scripts with illustrator Mizutamari Higashi.
Q: I understand you took the lead on concept art and color scripts for Pokémon: Twilight Wings. To begin, would you mind defining for us exactly what concept art and color scripts are, and how the two differ?
A: Concept art means pictures you draw to give concrete form to the mental images you see when you read—for example, a script or other text. People may get different mental images from the text, but concept art gets the whole production team on the same page with a clear goal to aim for. So, the better the concept art is, the better the final film will turn out.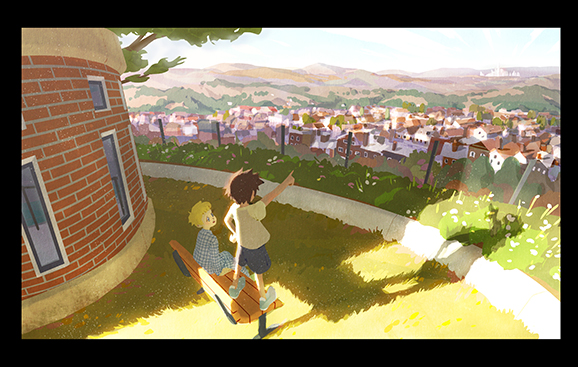 Color scripts are blueprints for the artwork. They consist of a series of pictures drawn to show how the story should appear on-screen. They're often used to direct the colors or lighting of a scene, as the name suggests. Concept art and color scripts both require artistic ability and an understanding of how a story is directed. Both demand a lot of thought and are difficult but are also very worthwhile work!
Q: Your illustrations have a distinctively warm, somehow nostalgic touch. What concepts are important to you in your illustration work?
A: Thank you very much! A lot of things depend on the motif of what I'm drawing, but in general, I aim to express a sense of atmosphere. I've always wanted my drawings to express the smells, or the feeling of the breeze, of the scenery I grew up in, but I don't think I've been able to do that yet—not to mention that when I work, I get caught up with fulfilling the request at hand and tend to forget that basic desire... Still, if you feel nostalgia or warmth from my work, maybe I've been able to express what I wanted a little after all. That makes me very happy. Thank you very much.
Q: Did you know about Pokémon beforehand? Has it come up in your life in ways that left a lasting memory or impression? If so, please tell us about that.
A: Of course I knew about Pokémon. A French friend of mine once asked me, "Do you know this song?" and began humming a melody, but I had no idea what the song was. They told me, "C'mon, it's the Pokémon theme song!" But the melody wasn't from "Mezase Pokémon Master" ["Aim to Be a Pokémon Master," the first opening theme song of Pokémon the Series in Japan]. That was when it hit me that the series had different theme songs in different countries! But we all loved Pokémon the same no matter which country we were in, and I remember feeling proud for some reason when my friend told me they had grown up watching Pokémon, too.
Q: I imagine you also had to create concept art for things that weren't featured in the games. What was on your mind during that process?
A: Since there was already a lovely story in place, I concentrated on finding the portrayals and designs that would express that story the best. I think I was in a very laid-back position since I already had a story and direction plans that made sense to me. I'm very fortunate to have been able to work on something under the title of Pokémon, and with this team.
Q: In one piece of concept art for Twilight Wings, we can see a Galarian townscape as well as John and Tommy talking. Can you tell us about any concepts or themes behind this?
A: When I create concept art, I feel it's crucial that the image captures the essence of the story. Since John and Tommy are original characters in Twilight Wings, they felt especially important to me. As I was drawing them, I hoped to convey this story about these kids in the hospital, and how far they could go—how far they could fly.
Q: Images from the color scripts also appear in the ending sequences of Twilight Wings episodes. Can you tell us if you have a favorite among those images—and if so, why?
A: I'm so glad they've even been used in the ending sequences! I think the one that's dearest to me is the image from Episode 4 of Nessa and Milotic midjump, because I think I was really able to celebrate Nessa with that one. I always hope to draw characters in a way that celebrates or encourages them.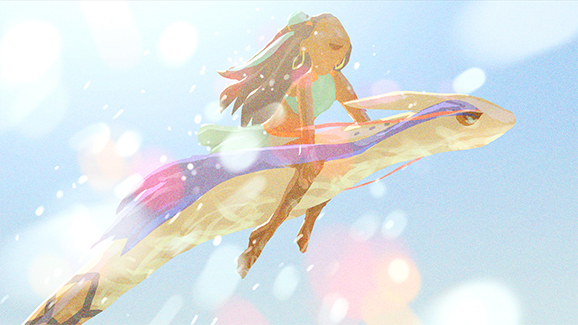 Q: Are there any easy-to-miss details you'd like viewers to notice in the ending sequences, or behind-the-scenes anecdotes about the production process you'd like to share?
A: For the image from Episode 4 of Nessa in the waiting room, I wanted to depict a heavy atmosphere to convey Nessa feeling depressed, so I drew inspiration from a certain animated film—one that has heavy subject matter, but has earned a place in Japan's history.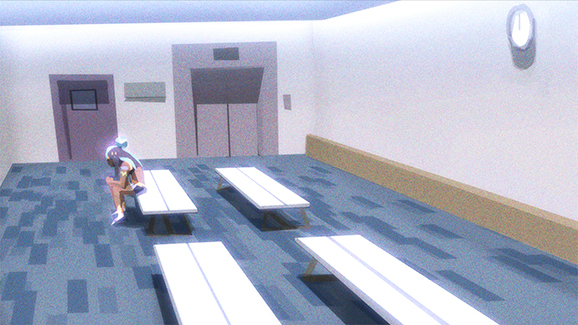 Q: Can you tell us about any upcoming highlights you're looking forward to?
A: I'm obviously excited to see all the characters people know and love, but I'm really looking forward to seeing more of Twilight Wings' new characters, John and Tommy, and where their journey will lead them!
Q: Lastly, is there anything you'd like to say to fans of Twilight Wings and of Pokémon as a whole?
A: I'm truly grateful for my good fortune to have been involved with a work like this. As with other well-known works, the story of Twilight Wings has been imbued with multiple layers of meaning by Director [Shingo] Yamashita. I think you can watch it once and take pleasure in the animation, then delve deeper into the story's layers on second and third viewings, so I'd love it if you were all to watch Twilight Wings a number of times and experience it as deeply as you want. Thank you very much!
Remember, all seven episodes of Pokémon: Twilight Wings as well as the new special episode, Pokémon: Twilight Wings—The Gathering of Stars, are available to watch on Pokémon TV—here on Pokemon.com or using the Pokémon TV mobile app—or on the official Pokémon YouTube channel.
Be sure to read all our interviews with the Pokémon: Twilight Wings creative team!