The season of tricks, treats, and trouble is finally upon us, and there's no better companion to help serve up scares than Gengar. The Shadow Pokémon plays a starring role in several stunning products including dreadful decor, appalling apparel, and paranormal plush. Treat yourself to your favorite Gengar, who will be sure to bring the tricks. Don't miss out on this opportunity to celebrate this spooktacular season with the sultan of scares, prince of panic, captain of creep.
Jeepers Creepers Jersey
Gengar doesn't just scare; it scares with style. Steal some of Gengar's penchant for showmanship with the colorful Gengar jersey from JapanLA. With an eye-catching tie-dye pattern and puff print with glow ink, this jersey will pull you out of the shadows and into the spotlight. And with the Pokémon's name sprawled boldly across the back in capital letters, there will be no mistaking your allegiance.
Scare Bear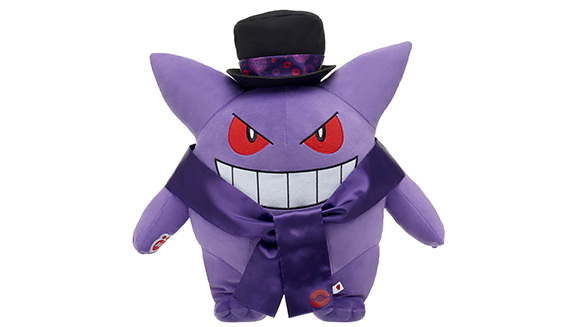 Build-A-Bear is taking a walk on the wild side with Gengar this Halloween. The Shadow Pokémon might not be known for being cuddly, but it sure looks huggable in plush form wearing a dapper coat or hat and scarf. Gengar is available in-store or online, but if you're planning on building your very own Gengar, you might want to dress for the occasion since its holiday attire and accessories are on point.
Macabre Meals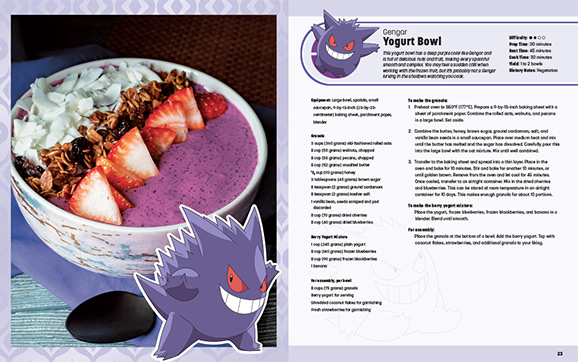 Looking for a meal that will smile ominously back at you? The My Pokémon Cookbook has you covered with dozens of Pokémon-inspired recipes including a Gengar Yogurt Recipe. The dish shares Gengar's vibrant purple coloring, and even offers a nod to the Pokémon's chilling presence by including frozen fruit in the recipe. You can pick up the My Pokémon Cookbook on Amazon and where Pokémon books are sold.
#SquadGhouls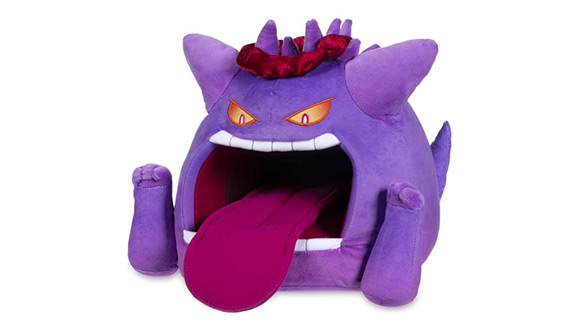 If you're seeking a scary movie buddy who won't hog the popcorn, look no further. The Gigantamax Gengar Poké Plush from Pokémon Center captures the Shadow Pokémon in its largest—and some might say most terrifying—form. This purple Pokémon plush would be happy to accompany you to the pumpkin patch, hold your hand at a haunted house, and guard the candy bowl on Halloween.
Boo-tiful Bling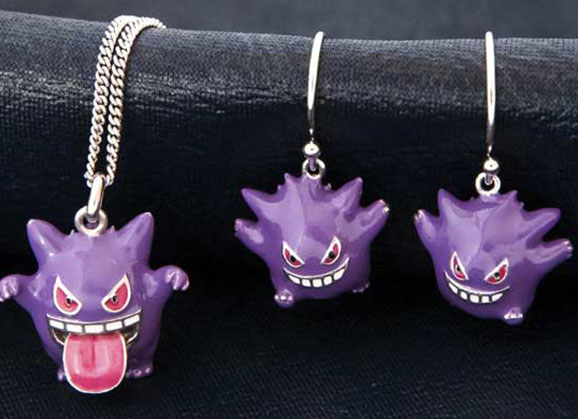 Rock your love of the beloved Ghost- and Poison-type Pokémon with a pendant necklace and earrings from RockLove available at the Pokémon Center. Gengar might not be thought of as elegant, but these accessories celebrate the Pokémon's playful personality in an undeniably fashionable way. They're the perfect accessories for all your Halloween activities, and for the seasons beyond.
Scarier Than a Garden Gnome
Decorate divinely and dangerously with a little help from the Pokémon Center. Tin signs capture Gengar's iconic leer, while also paying homage to Gastly and Haunter. Together, Gastly, Haunter, and Gengar make for a troublesome trio, playing all manner of playful pranks for their own amusement. Share your love for Ghost-type Pokémon with the whole neighborhood with a yard statue that captures the Shadow Pokémon in its element. Gengar is the perfect Pokémon to haunt your yard, and neighborhood, during the spooky season.
Ghouls Just Wanna Have Fun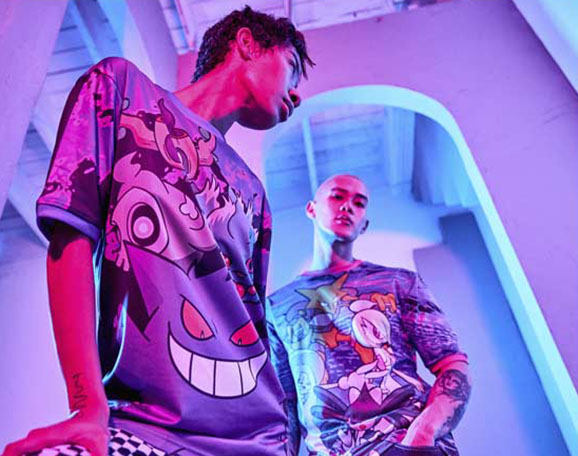 Add some attitude to your wardrobe with jackets, sweaters, and shirts that capture Gengar's fashionably feisty spirit. Whether you're looking to stay warm and cozy as the weather starts to turn with an insulated snap-down jacket, or make it clear that you're Team Ghost with a Pokémon Center × OMOCAT jersey, the Pokémon Center has you covered. Pair these items with your new RockLove jewelry to make a spookily sassy statement.
Go get Gengar, Trainers!