The upcoming Pokémon Sword and Pokémon Shield are the next generation of Pokémon RPGs coming to the Nintendo Switch system. Your new adventure in the Galar region is now just a few weeks away, and there'll be lots to do as you explore the region's idyllic countryside, contemporary cities, thick forests, and craggy, snow-covered mountains. These games are full of incredible new features, so if you haven't been keeping up, read on to find out a little about some of our favorites—Dynamax, the Wild Area, Max Raid Battles, Pokémon Camp, and Poké Jobs.
Dynamax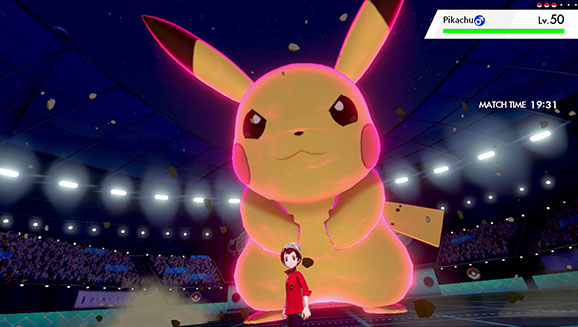 Dynamax is a phenomenon unique to specific locations in the Galar region, where Pokémon are able to take on gigantic appearances. Pokémon from the Galar region are capable of Dynamaxing, and the Dynamax Pokémon become tremendously strong.
The Dynamax phenomenon, which allows Pokémon to become tremendously powerful, is an integral part of Pokémon battles in the Galar region. Dynamax Pokémon don't just become bigger—they get a boost in power as well. Plus, all the moves of a Dynamax Pokémon will turn into special Max Moves. But the Pokémon will return to normal after three turns, so make sure to think carefully about when to trigger the Dynamax phenomenon!
Learn more about Dynamax.
Wild Area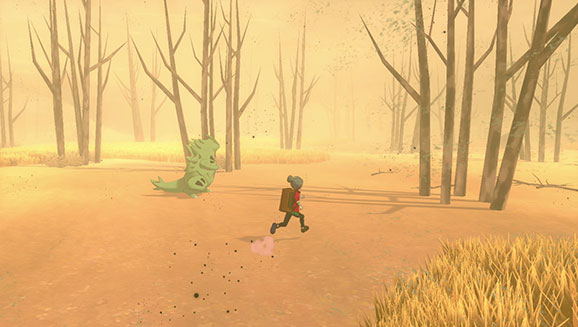 There is a vast expanse of land in the Galar region that is known as the Wild Area. The Wild Area is full of nature as far as the eye can see, and it connects several different towns and cities. You'll find a greater variety of Pokémon living here than anywhere else in the Galar region. The Pokémon you'll run into will change depending on things like the weather or location, so you might see something new each time you visit.
The weather in the Wild Area can change depending on where you are or what time of day it is. You'll see sunshine and rain, and you might even run into more uncommon weather patterns, such as thunderstorms. You'll find plenty of Electric-type Pokémon during thunderstorms, and when you enter battle, the battlefield will have the effects of both the rain weather condition and Electric Terrain!
Learn more about the Wild Area.
Max Raid Battles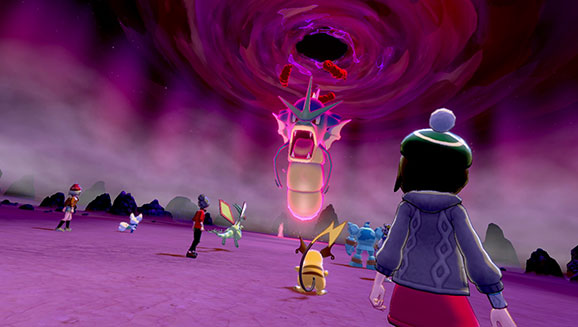 You'll be able to meet up with other players and have fun with them in the Wild Area via local or online communication. One way to have fun is to join up with three other players and take on powerful Dynamax Pokémon in Max Raid Battles.
The Wild Area is full of what are known as Pokémon Dens. Sometimes, you'll come across a Pokémon Den that is releasing a pillar of light. Dynamax Pokémon of different species and varying strength are hiding in these dens, and you'll be able to attempt a Max Raid Battle by investigating them. Whenever you see a pillar of light, just walk up to the Pokémon Den and interact with it to start an encounter with a Dynamax Pokémon in a Max Raid Battle.
Learn more about Max Raid Battles.
Pokémon Camp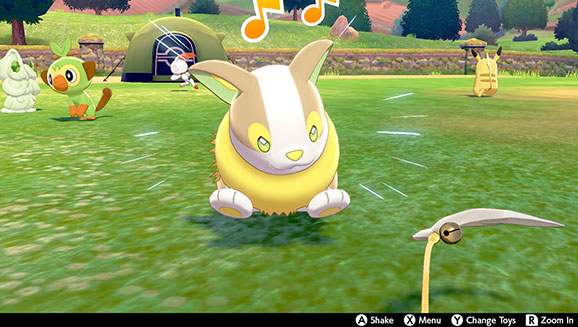 You can enjoy a moment of relaxation and fun with the Pokémon in your party via Pokémon Camp. Watch your Pokémon closely as they have fun camping, and as they play together, you might discover a new side to them that you don't normally get to see!
You can also play with your Pokémon while camping. There are several toys that your Pokémon will enjoy—you can play with your Pokémon by using a Poké Toy or a variety of bouncing balls. In your Pokémon Camp, you'll also be able to make wondrous curries that are hugely popular in the Galar region. You can join the camp of another player or have other players visit your own camp (which holds four players max) to interact with Pokémon or make some curry.
Learn more about Pokémon Camp.
Poké Jobs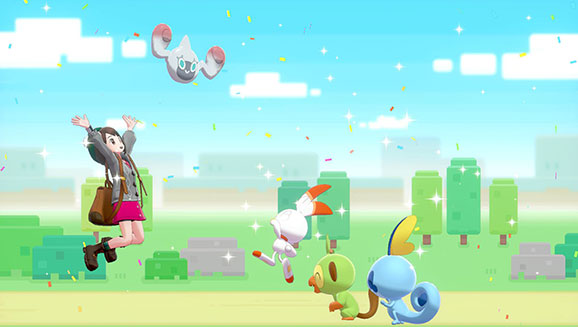 In the Galar region, it is very common for people and Pokémon to work together. Many corporations and universities request the help of Pokémon through what are known as Poké Jobs. You can check available Poké Jobs at the Rotomi in Pokémon Centers, and you'll also be able to send Pokémon from your Boxes directly on any job you accept.
Your Pokémon will receive rewards like Exp. Points or base points, and how much they get will depend on factors like how long they work and their types. You'll find that certain Pokémon types are suited for specific jobs, too. Helping out for a long time or sending as many Pokémon as you can on a job can also net some good results. You might even receive some rare items!
Learn more about Poké Jobs.
Pokémon Sword and Pokémon Shield will launch on November 15, 2019. You can preorder the games so you'll be ready on launch day!