Summer is upon us, and three exciting live Pokémon GO events are just around the corner! These celebrations are happening in locations all over the world, but even if you're not able to make it to one in person, you'll still be able to participate in Professor Willow's Global Challenge. For the purposes of this challenge, the global community will be split into four areas: the Americas; Europe, the Middle-East, and Africa; Asia-Pacific; and the main research site (the location of the live event).
During the weekends of Pokémon GO's special live events, there will be new Field Research tasks to complete. If all four areas work together throughout the events and meet their goals, amazing bonus rewards will be unlocked. As an extra incentive, if the bonus reward is earned in all three summer events, a mysterious Ultra Bonus will be unlocked!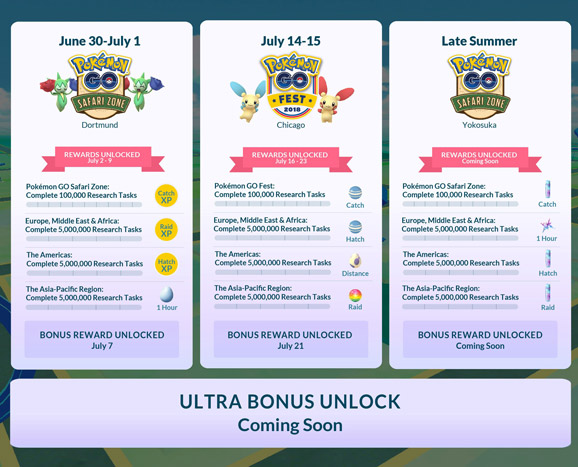 Pokémon GO Safari Zone in Dortmund, Germany
The first event in Professor Willow's Challenge will take place during the Safari Zone event in Dortmund, Germany, from June 30 to July 1. At this time, Trainers all over the world will see an increased number of Roselia, the Grass- and Poison-type Pokémon originally discovered in the Hoenn region. There will also be a chance of encountering a Shiny Roselia with purple and black roses. How stylish!
Pokémon GO Fest 2018 in Chicago, USA
The second special event this summer is Pokémon GO Fest 2018 in Chicago, USA, on July 14 and 15. Here, Trapinch, Feebas, and more Pokémon featured in the habitats of Pokémon GO Fest will show up with increased frequency around the world. Additionally, the Cheering Pokémon Plusle and Minun will appear more frequently while Trainers complete themed Field Research tasks. You will receive bonus Stardust for catching these two Pokémon, and you might even come across Shiny versions of the adorable duo.
As if that wasn't enough, Pokémon GO Fest 2018 will also mark the Pokémon GO debut of Alolan Diglett and Alolan Geodude. These two Pokémon that were originally discovered in the Alola region will be available worldwide during this exciting weekend.
Pokémon GO Safari Zone in Yokosuka, Japan
Capping off this summer's special events is the Safari Zone event in Yokosuka, Japan. Specifics and dates of this late summer event have yet to be announced, but check back later for more details.
Mark your calendars now, and get ready to work together with Trainers around the world to make this summer the best yet!