The Pokémon Trading Card Game has been around for more than 20 years, and hundreds upon hundreds of cards have been created for it during that time. Not surprisingly, quite a few Pokémon have appeared multiple times in expansions over the years, so we're taking a look back at some of the different ways they've been interpreted by the talented artists of the Pokémon TCG.
Charizard, a beloved Fire-type Pokémon, has been a staple of the Pokémon TCG since the game's inception, so it seemed like a perfect place to start when taking a reflective look back at how a Pokémon's visual style has changed over the years. Of course, these are not all of the Charizard cards that have shown up in the Pokémon TCG, but they are some of the ones that stood out the most to us.
---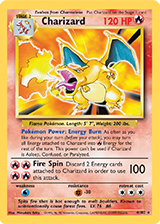 Charizard
Base Set (4/102), 1999
Illus. Mitsuhiro Arita
When the Pokémon TCG debuted with the initial Base Set, this card featuring Charizard was the one to get! It didn't matter if you were a competitive player or just a collector—if you didn't have this famous card, your collection wasn't complete. Even today, longtime fans have fond memories of this card and its iconic artwork showing one of the most popular Pokémon looking undeniably awesome in a fierce battle pose. It may not look as flashy as more recent cards, but there's no arguing about the retro-cool look of Charizard's very first appearance in the Pokémon TCG.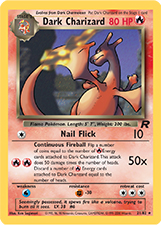 Dark Charizard
Team Rocket (21/82), 2000
Illus. Ken Sugimori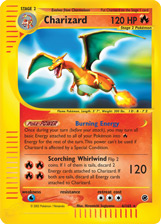 Charizard
Expedition (6/165), 2002
Illus. Hiromichi Sugiyama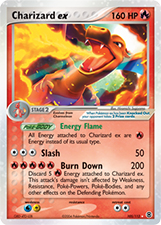 Charizard ex
EX FireRed & LeafGreen (105/112), 2004
Illus. Hiromichi Sugiyama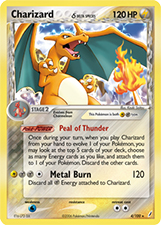 Charizard δ
EX Crystal Guardians (4/100), 2006
Illus. Kouki Saitou
Charizard Star δ
EX Dragon Frontiers (100/101), 2006
Illus. Masakazu Fukuda
Charizard Star δ is notable for being the first time we get a clear, full-color view of a Shiny Charizard in the Pokémon TCG. If you think Charizard looks amazing in its standard colors, prepare yourself for a Charizard that's shadowy black with fiery red wings! This Pokémon's pose is perfect for showing off its color scheme, with unfurled wings and a massive blast of fire to cast brilliant highlights off its dark skin.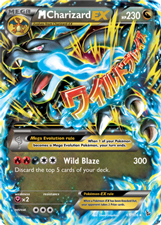 M Charizard-EX
XY—Flashfire (69/106), 2014
Illus. 5ban Graphics
The XY—Flashfire expansion introduced both Mega Evolutions of Charizard to the Pokémon TCG. One card features the Fire-type Mega Charizard Y, while the other one pictured here highlights the Dragon-type Mega Charizard X. With its dynamic pose, this M Charizard-EX appears to be lunging straight out of the card, ready to wreak havoc on anyone foolish enough to get in its way. The Japanese text on the card reads "Wild Blaze," the name of the Pokémon's attack. Amusingly enough, the Japanese version of the card features the stylized attack name in English!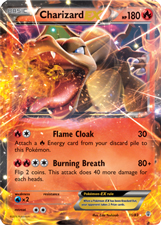 Charizard-EX
Generations (11/83), 2016
Illus. Eske Yoshinob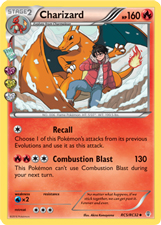 Charizard
Generations (RC5/RC32), 2016
Illus. Akira Komayama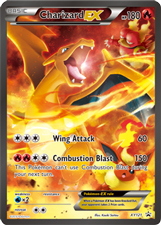 Charizard-EX
XY Black Star Promo (XY121), 2016
Illus. Kouki Saitou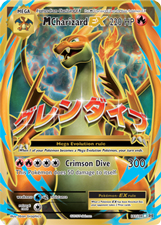 M Charizard-EX
XY—Evolutions (101/108), 2016
Illus. 5ban Graphics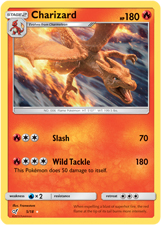 Charizard
Detective Pikachu (5/18), 2019
Illus. Framestore
Here's one of Charizard's most recent appearances in the Pokémon TCG, and it definitely stands out! This card features Charizard as it appears in the live-action POKÉMON Detective Pikachu movie, and the realistic artwork gives the Flame Pokémon its fiercest look yet. Check out the scales that cover Charizard—you can practically feel that rough, thick skin. Combine Charizard's new look with an action-packed pose—it's charging forward while surrounded by flames—and you have an incredible card that more than lives up to the standards set by Charizard's original Pokémon TCG appearance from 20 years ago.