By Joe Bernard, Contributing Writer
Event Recaps
The 2022 Pokémon TCG World Championships in London brought hundreds of top players from around the globe to compete for the title and glory of becoming a World Champion for the first time in three years, making this world championships all the more exciting and special. This would be the first World Championships held outside of North America and it was the first to introduce not only a fourth day of competition, having a huge impact on the overall size and feel of the event.
Heading into this tournament, all eyes were on the ongoing power struggle between Origin Forme Palkia VSTAR and Arceus VSTAR decks after both had impressive showings at the North American International Championships, as well as the ever-looming presence of the ruthlessly aggressive and consistent Mew VMAX Fusion Strike deck. The World Championships also introduced cards from the Pokémon GO expansion, giving players many new cards to consider when testing for the event.
On the first day of competition, over 500 players endured eight grueling Swiss rounds in an effort to make the second day of the tournament. There was much skill and creativity on display, most notably from two-time Worlds finalist Ross Cawthon, who was overcoming his opponents utilizing the new Radiant Charizard from the Pokémon GO expansion. Strong performances were also turned in by Calvin Connor and 2014 World Champion Andrew Estrada, who both piloted the same Palkia VSTAR with Inteleon list not only through day one but all the way into the nine-player Top Cut. Calvin was in fact the beneficiary of the new asymmetric top cut rules introduced in this World Championships as the ninth seed after the second day of Swiss rounds, but was ultimately overcome in a nail-biting three-game set against Otavio Gouveia in a Palkia VSTAR mirror match.
And after three marathon days, the lineups were set for three incredible final matches to determine the next Pokémon TCG World Champion.
Junior Division Finals
The Junior Division finals saw another Origin Forme Palkia VSTAR mirror match between Rikuto O. and Tristan T. But this time there was a twist, as Rikuto decided to include an Ice Rider Calyrex VMAX into their deck. It was used expertly throughout the set in order to score some key Knock Outs. The series came down to the wire, but it was Rikuto's impressive combination of Choice Belt and Leon to reach a surprising and crucial Knock Out on an opposing Palkia VSTAR to ensure the victory in the third game. Using Leon to seize victory in a tough spot was a poetic moment viewers won't soon forget!
Senior Division Finals
The Senior Division finals between Sebastian L. and Liam H. were equally gripping to spectators in the hall and watching the stream live around the world. Liam's Origin Forme Palkia VSTAR + Inteleon deck squared off against a surprising choice from Sebastian, a Rapid Strike Urshifu VMAX deck which focused heavily on healing damage via Cheryl.
Once again, expert play was exhibited on both sides. Sebastian mounted an impressive comeback in the first game. He played a well-timed Yoga Loop attack with Medicham V to take an additional turn and swing a three Prize disadvantage back into what looked like would be an improbable win. But Liam was able to stabilize with a Roxanne and Path to the Peak combination, stranding a Single Strike Urshifu VMAX in the Active Spot in the late game, allowing an easy two-hit Knock Out with the removal of Tower of Waters and Sebastian having no way to retreat.
Sebastian was able to seize the second game with yet another Yoga Loop play late in the game. Despite Liam's attempts to deny Inteleon from Quick Shooting down a damaged Manaphy, an Ordinary Rod brought back Inteleon just in time to weave in another big comeback via Medicham V while Liam was unable to act.
Thanks to such long and tactical gameplay, the final game came down to sudden death, and it was Liam who was able to take the first Prize card in game three, crowning them a very deserving Senior Champion! Liam will certainly be a player to watch in the future!
Masters Division Finals
Notice: If you click on the YouTube video above, you will leave Pokemon.com. The Pokémon Company International is not responsible for the content of any linked website that is not operated by The Pokémon Company International. Please note that these websites' privacy policies and security practices may differ from The Pokémon Company International's standards.
---
In the Masters Division finals we saw something quite different than the previous two finals matches. It was a mirror match of sorts, with both players opting to play Arceus VSTAR with Flying Pikachu VMAX and Hisuian Decidueye VSTAR.
Thanks to Palkia VSTAR occupying five of the top nine placements, it was two-time Champions League winner Daichi Shimada who was able to breeze his way through their side of the bracket, facing back-to-back Palkia VSTAR decks. This was exactly what Shimada had hoped for when building their deck. Shimada built a disruptive combination of Jolteon's Thunderous Awakening Ability to shut down the Abilities' of Inteleon, Drizzile, Radiant Greninja, and even Star Portal, and Flying Pikachu VMAX to use as an attacking threat to score big Knock Outs and tank multiple Subspace Swell attacks. With this gameplan Shimada's opponents stood little to no chance.
Ondřej Škubal, who is also no stranger to the international stage, seemed to have a more difficult journey to the finals. Mew VMAX was the first hurdle and it proved to be a close run best of three series in Top 8, where a tails flip on Cram-o-matic kept Ondřej's dream alive . With Path to the Peak in play, Andre Chiasson was unable to draw cards with Fusion Strike System or launch any attacks against Ondřej's fragile Hisuian Decidueye V. Ondřej was able to slowly build up an Arceus VSTAR and eventually grind out the win. In the semifinals, Ondřej had to overcome 2019 Top 8 Worlds finisher Ryota Ishiyama, who was piloting Arceus VSTAR, Flying Pikachu VMAX, and Hisuian Decidueye VSTAR. Despite some successful Fly attacks launched by Ryota with their back against a wall, Ondřej was able to win the set. It was clear from this series that Bibarel did give Ondřej a small edge in the matchup.
It seems our two Masters finalists had a similar idea for the tournament: use Weakness to leverage easy Prize cards against both Palkia VSTAR and Arceus VSTAR. It felt fitting that this strategy would continue to be vital going into the Finals, especially because an additional Weakness would come into play, the Lightning Weakness of Flying Pikachu VMAX.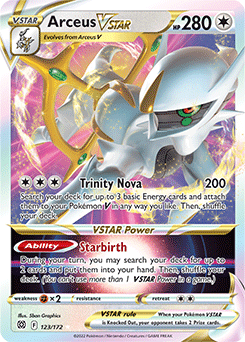 Both players took full advantage of Arceus VSTAR's Trinity Nova attack to power up the attacks of Flying Pikachu VMAX and Hisuian Decidueye VSTAR throughout the finals. There was a fascinating back-and-forth Stadium war with Path to the Peak, as both players looked to utilize their own Starbirth Ability to search for combo pieces and deny their opponent at the same time. At one point Shimada was ahead on Prize cards for several turns in the first game but was unable to find a crucial Boss's Orders in time to close the game out on a vulnerable Crobat V.
In the second game Ondřej cleverly used Trinity Charge onto a Flying Pikachu VMAX early, and thanks to a crucial Fighting resistance was able to withstand two attacks from Hisuian Decidueye VSTAR as he picked apart Shimada's other attackers and some key Prize cards. As the game continued, Ondřej diligently developed two Bibarel and, thanks to Industrious Incisors, was able to comfortably draw cards. Despite Marnie hand disruption from Shimada, Ondřej eventually found the game winning Boss's Orders to close out the game, leaving us with a European Champion in the first ever European Worlds event.
The 2022 World Championships went above and beyond all expectations. We saw incredibly hard-fought games on every day of competition, and the collective celebration of players and spectators was palpable throughout. As players prepare for the 2023 season, they'll have plenty of new ideas to practice and hone as they begin a new journey to accumulate points towards our next World Championships in Yokohama, a location worth fighting for!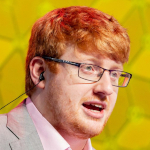 Joe Bernard
Joe has been competing in Pokémon Trading Card Game tournaments since 2009 and has been a member of the stream team for a number of Regional, National, and International Championships since 2016. He has also been producing frequent video and stream content focusing on the competitive aspects of the Pokémon TCG for over five years.