By Ellis Longhurst, Contributing Writer
Washington, D.C. is alive with epic battles and exciting storylines as the city plays host to the 2019 Pokémon World Championships. Day 1 has concluded, but there's more Pokémon action in store throughout the weekend. On Saturday, this season's top players from the Europe, Oceania, Japan, Latin America, and North America rating zones will take on the players who successfully emerged from the first day of competition. Pokémon TCG skills and strategies will be tested, and the field will be whittled down to just the finalists in each division.
The second day of the 2019 World Championships kicks off on Saturday at 9:00 a.m. EDT. Before you jump in, let's catch you up on the highlights from Day 1.
Fresh Format
This year, the Pokémon World Championships came with a twist. Not only would it be the first opportunity for players to compete using cards from the Sun & Moon—Unified Minds expansion, they would also need to navigate a new card pool rotation. The challenge was on to design the best 60-card deck using only the cards released since the Sun & Moon—Ultra Prism expansion.
The Sea of Malamar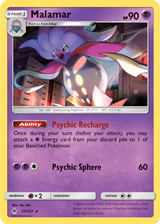 For more than a quarter of the competitors in the Masters Division, that deck featured Malamar. Decks utilizing Malamar's Psychic Recharge ability were popular leading up to the World Championships, so it was unsurprising to see Psychic-type Pokémon dominate the competition tables in D.C. However, when it comes to Psychic types, nothing is ever as it seems! In addition to Malamar's traditional partner, Giratina, players brought formidable new TAG TEAM Pokémon-GX like Giratina & Garchomp-GX and Espeon & Deoxys-GX to battle.
William Azevedo, who placed in the top 16 in the Latin America region this season, even included a Fighting-type Pokémon—Marshadow & Machamp-GX—in his deck. This card was not his attacker of choice in the mirror matches, but it proved to be invaluable against the next most popular archetype, Pikachu & Zekrom-GX.
Pikachu & Zekrom-GX Lights Up the Tournament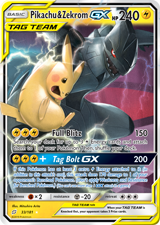 Since the card's release, decks focused on Pikachu & Zekrom-GX have been a mainstay of international Pokémon tournaments. The 2019 World Championships is no exception: 20 percent of the competitors chose to put their faith in this duo! Among them were 2017 World Champion Diego Cassiraga of Argentina, and runner-up at the 2019 North America International Championships, Emery Taylor of the United States. Both players found success with Pikachu & Zekrom-GX earlier in the season, but this was not the only reason they chose to play the deck again.
With the Sun & Moon—Unified Minds expansion, Pikachu & Zekrom-GX gained a powerful partner in Raichu & Alolan Raichu-GX. That new TAG TEAM Pokémon-GX can deal loads of damage, especially when it gets a boost from Electropower. Raichu & Alolan Raichu-GX can even use its Tandem Shock attack to paralyze the opponent's active Pokémon. At this tournament, it wasn't unusual to see a Pokémon stuck in the active position and unable to attack!
A Surprising Deck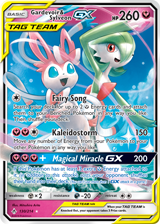 Players from Japan have a history of bringing unconventional, highly creative decks to the Pokémon World Championships. In 2016, Shintaro Ito became World Champion with an Audino-EX deck. The following year, Sho Sasaki brought the Golisopod-GX deck with Garbodor to everyone's attention when he placed 4th at the World Championships. This year, players from Japan turned heads with their decision to play the Gardevoir & Sylveon-GX deck. Having underachieved at International Championships, no one expected that particular card to show up in force in Washington D.C.
The rest of the world was clearly ill-prepared for this TAG TEAM. By round six, there were four Gardevoir & Sylveon-GX players from Japan on the cusp of earning enough match points to progress in the tournament… and even more who were only a couple of wins away.
Haruki Satoyama and Eri Nakamura, both of Japan, became two of the first five competitors to qualify for the second day of competition. Will these players bring Gardevoir & Sylveon-GX to battle once again? Or will another deck make a surprise appearance?
Keldeo-GX Makes a Splash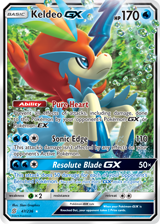 For all the powerhouse TAG TEAM Pokémon-GX in the field, it was Keldeo-GX that proved to be the most disruptive card in the tournament. This Pokémon's Pure Heart ability makes it immune to the attacks of Pokémon-GX. Seeing a Keldeo-GX across the table was a big problem for all the players whose decks were focused on Pokémon-GX—particularly those who brought only Pokémon-GX to battle! Interestingly, Keldeo-GX appeared as a primary attacker or a tech card in a range of different decks. For example, Panajot Kica of the United States featured Keldeo-GX alongside Vaporeon-GX, while Jack Underwood of Australia included the card in his Mewtwo & Mew-GX TAG TEAM deck. Players will need to account for Keldeo-GX when designing their decks for Saturday.
What's to Come
After eight rounds of intense Pokémon battles, 137 players earned themselves a coveted position in the second day of competition at the World Championships: 47 from the Junior Division, 40 from the Senior Division, and 50 from the Masters Division. On Saturday, they'll join the players whose performance during the season earned them an automatic qualification.
Don't miss another full day of exciting matches when play resumes at 9:00 a.m. EDT Saturday on Pokemon.com/Live!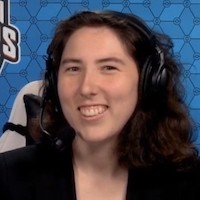 Ellis Longhurst
Ellis Longhurst is a contributing writer covering Play! Pokémon events for Pokemon.com. She has been competing in high-level Pokémon TCG tournaments since 2006, and creating written content for the Pokémon community since 2011. Ellis now brings an Australian flavour to the Play! Pokémon broadcasting and stream teams at the International and World Championship competitions.