Worlds Day One Is Done
Check out our takeaways from the first day of action in the Music City at the Pokémon World Championships.

That's a wrap from Day 1 here in Nashville at the 2018 Pokémon World Championships. There were plenty of thrills as the day unfolded, with more than 1,800 Pokémon TCG, video game, and Pokkén Tournament DX players from over 30 countries battling it out. Nearly 1,300 spectators were on hand, as well, cheering on their favorite players. For Pokémon fans, this is the place to be.
For Pokémon TCG and video game Masters Division competitors, it was all about getting enough points to advance to Day 2. Wins are worth three points and ties are worth one point. Pokémon TCG players needed to amass 18 points over eight rounds; video game players needed to have 21 points after nine rounds. Those who advanced will face the top competitors of the year, who had already qualified for a Day 2 invitation. The Day 1 match records don't carry over into Day 2, so players can mix up their strategies before tomorrow's action.
On the Pokkén Tournament DX side, players were duking it out in a Last Chance Qualifier for the final spots in the official competition, which begins tomorrow. But don't let the fact that today wasn't the championship tournament fool you—the players put on quite the show for spectators, adding even more frenzy to an already energetic Worlds event.
Pokémon TCG Takeaways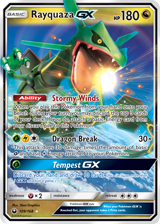 The timing of the Pokémon TCG World Championships proved interesting, with the Sun & Moon—Celestial Storm expansion being legal for tournament play for the first time. Players had only a few weeks to study and prepare for the addition of these cards, without having ever seeing them in competitive play.
Heading into Worlds, it was Rayquaza-GX that was getting the most attention. We guessed that it might be pretty popular, though Worlds can often surprise when it comes to which decks will be played the most, and which will emerge victorious. Rayquaza-GX did turn out to be fairly common in the field, and from what we saw its insanely fast set-up and powerful Dragon Break attack were indeed winning some matches.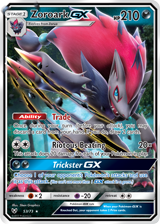 However, it was still Zoroark-GX that was getting a ton of play here in Nashville. The Pokémon dominated the top cut at the North American International Championships in July, so it's not terribly surprising that we would see it quite a bit here. What's incredible is how many different partners we've seen paired with Zoroark-GX, including both Garbodor (BREAKpoint) & Garbodor (Guardians Rising), Lycanroc-GX, and Magcargo, all of which serve various supportive roles.
Another Pokémon that has held its own is Buzzwole, and not just the powerful Buzzwole-GX. The regular Buzzwole and its Sledgehammer attack have been doing serious damage, as well. Sledgehammer is a little tricky to set up, with its full potential unlocked only if your opponent has exactly four Prize cards remaining. But 120 base damage for just one Energy (before adding bonuses from the likes of Strong Energy and Choice Band) is hard to pass up. Plus, you're not putting a Pokémon-GX in play that could give up two Prize cards if it gets knocked out.
It's not the centerpiece of its own deck, but one card we seem to be seeing a lot is Shrine of Punishment. This new Stadium card slowly and consistently damages Pokémon-EX and Pokémon-GX every turn, bringing these high-HP Pokémon in range for more one-hit KOs. It won't be surprising if it's a difference-maker throughout the rest of the tournament and beyond.
One darkhorse deck we've been keeping an eye on is powered by the Metal-type Magnezone from the Sun & Moon—Ultra Prism expansion. Trainers use its Magnetic Circuit Ability to quickly power up heavy hitters Dusk Mane Necrozma-GX and Dialga-GX. It's a relatively straightforward deck, showing that good strategies don't always have to be complicated. Take a look at the featured Magnezone deck: