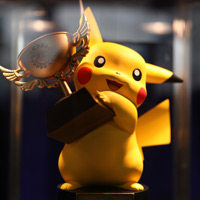 All players who have an invitation to the World Championships will receive an exclusive Pokémon World Championships Welcome Kit as an acknowledgement of their accomplishments during the season. Players must be on site to receive the Welcome Kit.
The divisions are:
Junior Division: Born in 2004 or later
Senior Division: Born in 2000, 2001, 2002, or 2003
Masters Division: Born in 1999 or earlier
Pokémon TCG Championships Prizes
The top 32 finishers in each of the three age divisions receive the following scholarship awards:
1st: $25,000
2nd: $15,000
3rd and 4th: $7,500
5th–8th: $5,000
9th–16th: $2,500
17th–32nd: $1,500
1st–4th place also receive:
A Pokémon World Championships Trophy

A Travel Award for the winner (and parent or legal guardian for players considered minors) to the 2016 World Championships

Two boxes of each of the most current Pokémon TCG expansions for a year

Factory-sealed full sets of the four most recent expansions
5th–32nd place also receive:
Two boxes of the most current Pokémon TCG expansion
Top finishers will also receive Championship Points as detailed here.
Pokémon Video Game Championships Prizes
The top 16 finishers in each of the three age divisions receive the following scholarship awards:
1st: $10,000
2nd: $7,500
3rd and 4th: $5,000
5th–8th: $3,000
9th–16th: $1,500
1st and 2nd place also receive:
A Pokémon World Championships Trophy

A Travel Award for the winner (and parent or legal guardian for players considered minors) to the 2016 World Championships

An invitation to the 2016 World Championships

Two boxes of the most current Pokémon TCG expansion
3rd and 4th place also receive:
A Pokémon World Championships Trophy

An invitation to the 2016 World Championships

Two boxes of the most current Pokémon TCG expansion
5th through 16th place also receive:
Two boxes of the most current Pokémon TCG expansion