Haruto Kobayashi (Japan)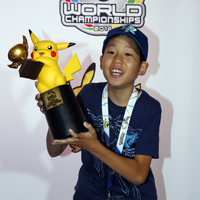 2014 Pokémon TCG World Champion—Junior Division
Haruto was nervous about facing players who didn't speak Japanese—but after he played a few of those opponents in just-for-fun matches, he stopped worrying. And, as it turned out, six of the players in his top 8 were from Japan! For his deck, Haruto concentrated on making a Plasma deck focused on Kyurem, because, as he puts it: "I had thought about making a deck that could handle things like Pyroar. I tried playing lots of battles with it." That turned out to be a good idea: "Around the sixth match I ran into a Pyroar user, and all went according to plan." Watch his final match on YouTube.
Trent Orndorff (USA)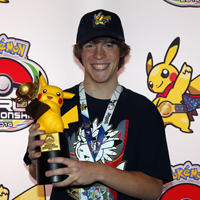 2014 Pokémon TCG World Champion—Senior Division
Trent was in eighth place going into the top 8 and had to fight his way up. He flipped heads on a Pokémon Catcher in game three of the finals to win the title of Senior Division World Champion—using a deck he didn't test beforehand! He says, "I built it the night before the Swiss rounds after talking with my friends." How's that for a great mix of skill and luck? Of course, it wasn't a single coin flip that made him Champion. Trent has been an active participant in Pokémon League for three years and plays three times a week with fellow Colorado players. Watch his final match on YouTube.
Andrew Estrada (Canada)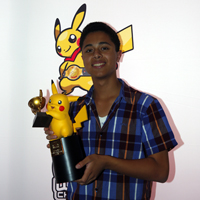 2014 Pokémon TCG World Champion—Masters Division
Andrew's path to victory was a scientific one: examination, analysis, and testing. "I looked at someone else's list and modified it to my play style," he says. "I play tested with my team and made changes to adapt to different matchups." When asked what he remembered most about playing this year, it was: "The sleepless nights along with the hours of testing." Speaking of his team, he says: "I've been playing four full seasons, and my friend introduced me to the game. I met Matthew Koo, who coached me for the next two years and helped make me the player I am today." Andrew's self-described strategy: "The deck's linear enough for me to know how to start and end every game." Watch his final match on YouTube.
Kota Yamamoto (Japan)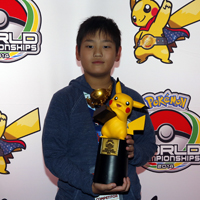 2014 VG World Champion—Junior Division
Despite consistently strong play from Japanese players at Worlds, Kota Yamamoto was the first Video Game World Champion from the country since his brother Shota took the Junior Division title in 2010. He defeated two other Japanese players on his way to the final match, where he beat London Swan of the United States. It was a tough, close, three-game match where both Trainers were using similar Pokémon, including Kangaskhan, Gardevoir, Aegislash, and Garchomp. Watch his final match on YouTube.
Nikolai Zielinski (USA)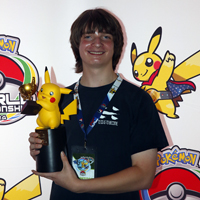 2014 VG World Champion—Senior Division
For most players, earning the title of World Champion takes years of experience and practice. Nikolai bucked the trend by reaching the top in his first year of competitive play. In the semi-finals and finals, he managed to defeat Eric Rios of Spain and Mark Mcquillan of the UK, two of the top European players in the Senior Division who both had a lot more experience. He caught many competitors by total surprise by using a Gengar that knew Trick Room, a combination that turned the tables on players expecting a faster Gengar. Watch his final match on YouTube.
Se Jun Park (South Korea)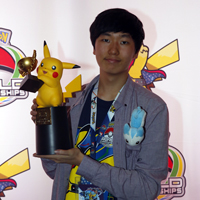 2014 VG World Champion—Masters Division
Considered one of the top players in the world for several years before his World Championships win, Se Jun Park finally achieved the goal that many players knew he could reach. His run in major events has been truly historic: he was a three-time South Korea National Champion, and every time he's competed at the World Championships, he's reached at least the top 8. Se Jun wowed the crowd during the finals with his innovative use of Pachirisu, which played a key role in deflecting his opponent's attacks using the Follow Me move. Watch his final match on YouTube.