Learn about the incredible players you can watch battle on August 13–15 on Twitch.tv/Pokemon.
The Video Game 25th Invitational is a who's who of the best Pokémon video game players in the world. Former World Champions are facing off against Pokémon Players Cup Champions in what are sure to be outstanding battles. Be sure to visit Twitch.tv/Pokemon on August 13–15, 2021, to watch all the action. But before you do, learn more about the talented Trainers who will be competing!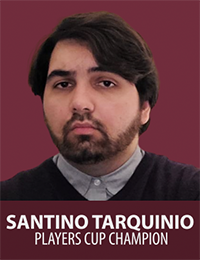 Santino Tarquinio
@supahsanti
Region:
North America
Major Accomplishment:
Players Cup I Champion
Aspiring Champions faced a lot of uncertainty preparing for the first Pokémon Players Cup, which was both the most important official online tournament ever and the first official Pokémon video game event to feature the double-elimination format instead of the usual Swiss. No Trainer rose to this challenge better than Santino. Not only did he win the tournament, but he did so without dropping a single set in both the Region Finals and the Global Finals.
Santino is now closely associated with Gigantamax Coalossal, the now-ubiquitous Pokémon he helped put on the map with his victorious Pokémon Players Cup I team. Even outside of his breakout win, Santino is known as an influential team builder, and that skill will be crucial in a field of some of the biggest names—and brightest minds—in Pokémon VGC history.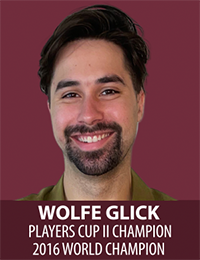 Wolfe Glick
@WolfeyGlick
Region:
North America
Major Accomplishments:
2016 World Champion,
Players Cup II Champion
Wolfe has been tremendously successfully since his first season competing, winning both his first Regional Championship and the National Championship in 2011 on his way to a Top-8 finish at the 2011 World Championships. He won the US National Championship again in 2012 and made it all the way to the World Championships finals. He took his biggest win at the 2016 World Championships using a clever team focused on Mega Gengar, Primal Kyogre, and Mega Rayquaza, while incorporating many creative ways for his supporting Pokémon to get in and out of battle.
No video game competitor has seen as many World Championships top cuts as Wolfe, nor has anyone seen success at as many different levels. His recent Pokémon Players Cup II victory joined a list of accolades that includes 2019 North America International Champion and six-time Regional Champion. Wolfe seems to be in the mix at the end of every tournament he competes in, so he'll certainly be a competitor to watch.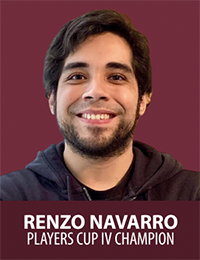 Renzo Navarro
@Prro_T93
Region:
Latin America
Major Accomplishment:
Players Cup IV Champion
The most recent Pokémon Players Cup Champion earned his biggest win just a few weeks ago, but he'd built toward that victory for years. Renzo had previously represented Peru in Day 2 of both the 2017 and 2018 Pokémon World Championships, and has won several Regional Championships across Latin America. His winning team from Pokémon Players Cup IV was a well-rounded rotation that could effectively handle many different types of opponents.
While it might be easy to overlook him in a list of famous competitors, Renzo comes in with an advantage after proving he's in championship form with his recent Pokémon Players Cup IV win. Even with the format shifting, Renzo has shown himself to be among the very best players of Pokémon Sword and Pokémon Shield, which could be his leg up on the competitors who haven't had as much recent success.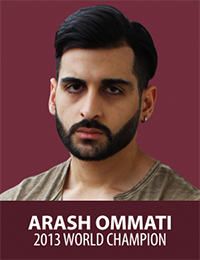 Arash Ommati
@Mean_vgc
Region:
Europe
Major Accomplishment:
2013 World Champion
Arash shocked the field when he became the first European Video Game World Champion in 2013 using a team built around a clever combination that seemed to have an advantage against every team on the field: Mamoswine and Tornadus with the Defiant Ability. Since his big win, Arash has remained one of Europe's top players, finishing in second place at the 2015 UK National Championships, winning the 2016 German National Championships and making it to the quarterfinals of the 2018 Pokémon World Championships.
In addition to being one of the most successful players in Pokémon Video Game Championships history, Arash has also been one of the most creative. While he's best known for his incredible solution to the 2013 metagame, many of his other teams have included unique Pokémon and strategies. He was the only player to make the Top-8 in the 2018 World Championships with Persian or Volcarona on his team, and he was the first player to make it to the top cut of any 2016 National Championship with Jumpluff or Yveltal.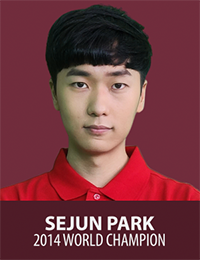 Sejun Park
@pokemon_tcg
Region:
South Korea
Major Accomplishment:
2014 World Champion
After a decade of impressive accomplishments, Sejun Park has become synonymous with Pokémon in South Korea. Starting his run as the Senior Division runner-up of the 2011 Pokémon World Championships after winning South Korea's first National Championship, he effortlessly moved up to the Masters Division with a Top-8 finish at the World Championships in 2012 and 2013. The next season, he won the 2014 Pokémon World Championships with the help of his trademark Pachirisu in perhaps the most famous Pokémon Video Game Championships match of all time.
While Sejun is best known for his Pachirisu, he's come up with several devastating teams using other uncommon Pokémon, including another unexpected Pokémon that knew Follow Me in his 2013 Pokémon World Championships run—Magmar. He's perhaps also the most versatile Pokémon Trainer on the planet—not only did he qualify for the Pokémon TCG event in the 2016 Pokémon World Championships, but he's also an expert player at seemingly every Pokémon video game you can imagine, attaining Legend rank in Pokémon GO's GO Battle League and Master rank in the recently released Pokémon Unite.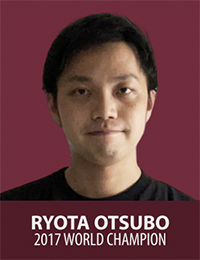 Ryota Otsubo
@barudoru
Region:
Japan
Major Accomplishment:
2017 World Champion
One of the game's most enthusiastic team builders, Ryota saw great success in the middle years of the Pokémon Video Game World Championships. He's best known for winning both the 2017 Japan National Championships as well as the 2017 Pokémon World Championships, but he also qualified for both the 2014 and 2015 Pokémon World Championships, where he made the Top-32 both years. To qualify for these events, he finished as the runner-up in the 2014 Japanese National Championships and became a semifinalist in 2015—an equally impressive feat at what most players consider to be the most difficult annual tournament outside of Worlds itself.
Ryota is sure to be a strong opponent due to his incredible variety of strategies. His winning Pokémon Sun and Pokémon Moon team in 2017 featured an almost unheard-of Krookodile and the wonky combination of a Whimsicott knowing the move Nature Power and holding a Normalium Z—perhaps fitting for a player known for playing whimsical teams.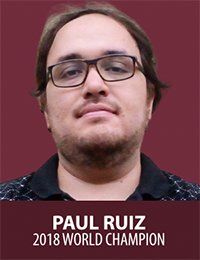 Paul Ruiz
@ralfdude90
Region:
Latin America
Major Accomplishment:
2018 World Champion
Paul won the hearts of many with his impassioned interviews after realizing his long-held dream of becoming Latin America's first World Champion in 2018. After qualifying for his first World Championships back in 2016, Paul made it all the way to the semifinals in 2017. He followed that finish up with a 2018 victory, making for the best consecutive performances since Ray Rizzo's back-to-back World Championships wins.
Paul is probably best remembered for his unexpected Gastrodon in 2018, but he used three of the same Pokémon in both 2017 and 2018—Snorlax, Salamence, and Tapu Koko—showing what he can do with experience and a clever combination of Pokémon. It's been a while since Ecuador's most famous Trainer has battled on a large stage, so it's sure to be exciting to see what Pokémon he selects this time.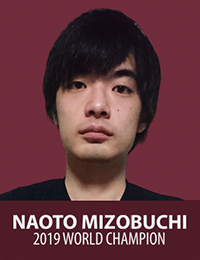 Naoto Mizobuchi
@penguin2142
Region:
Japan
Major Accomplishment:
2019 World Champion
Naoto has quietly been one of the more impactful Japanese players at the Pokémon Video Game World Championships over the years. He made his first World Championship appearance way back in 2010, which many consider to be the first true Pokémon Video Game World Championships. After finishing Top-8 in the Japan National Championships, he returned for the 2015 World Championships and finished in fourth place. Naoto continued his World Championships journey with a win at the most recent 2019 Pokémon World Championships.
Naoto has found success in over a decade of tournaments, so his breadth of experience is sure to be an advantage when preparing for this unique event. Two of the three Pokémon World Championships Naoto competed in allowed the use of powerful Legendary Pokémon—including his most recent win in 2019 using Groudon and Lunala—which could prove to be valuable experience as competitors look to figure out this new format that allows only one such Pokémon.
Watch the Video Game 25th Invitational on August 13–15 on Twitch.tv/Pokemon!