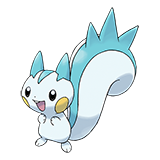 This year at the US Pokémon Video Game National Championships, you can get a Pachirisu just like the one Se Jun Park used on his World Championships team! Se Jun dazzled the competition at the 2014 Pokémon World Championships with a creative team that included Pachirisu, a Pokémon that few other players considered battling with. His performance led him to become the first Pokémon World Champion from South Korea. Watch Se Jun's Final Round battle to see Pachirisu in action.
The Lv. 50 Pachirisu will be available at the US National Championships via local wireless distribution for your Pokémon Omega Ruby or Pokémon Alpha Sapphire video game. You'll need to bring your own game and system in the Nintendo 3DS family. Check at the event for specific times when Pachirisu will be available.
Pachirisu was also available at Pokémon Video Game National Championships events in the UK, Germany, Italy, and Australia. If you got Pachirisu at one of these previous events, you will not be able to get a second one at the US National Championships.
Visit the United States National Championships and look forward to competing with Pachirisu, just like Pokémon World Champion Se Jun Park!