The three-day event brought out all the stars for amazing battles in Frankfurt, Germany.
By Ellis Longhurst, Contributing Writer
The Pokémon Trading Card Game International Championships returned in style in 2022 with the Europe International Championships. From April 22–24, experienced Trainers and newcomers alike converged on Frankfurt, Germany, for three exciting days of Pokémon TCG tournament action. Across three age divisions, competitors battled for the highly coveted title of International Champion, a title that came with a $10,000 grand prize and 500 Championship Points—enough to automatically qualify for the 2022 Pokémon World Championships. This event attracted over 600 competitors in the Masters Division, many of whom had traveled from around the globe. Great skill and a variety of decks were on display. Ultimately, a familiar face was crowned the champion. Read on to find out how the event unfolded.
You can also go back and watch hours of matches from the whole weekend on YouTube.com/Pokemon:
Popular Picks Dazzle on Day 1
This year, competitors at the Europe International Championships could build their decks with cards from any of the Pokémon TCG: Sword & Shield Series expansions, including the newest release, Sword & Shield—Brilliant Stars. The same pool of cards was legal for tournament play at the four Regional Championships earlier this year—and loads of different decks reached the top cut of those events, so the process of crafting a deck for the International Championships was just as challenging as ever.
Of the 620 competitors in the Masters Division, nearly one quarter battled using the Mew VMAX / Genesect V deck. The power of Fusion Strike Pokémon was fully realized at the Brisbane Regional Championships when Natalie Millar won the event using this combination of cards, and it has been a popular choice at tournaments ever since. Mew VMAX / Genesect V is designed to execute a simple yet effective strategy: put all of your Genesect V into play, then use Fusion Strike System to draw the cards needed to set up Mew VMAX and Meloetta to take Knock Outs. Competitors can accelerate Fusion Strike Energy cards with Elesa's Sparkle, increase the damage done to the opponent's Pokémon by way of Power Tablet, and deny the opponent from taking extra Prize cards with Mew V's Psychic Leap attack. The deck appears to be prepared for every situation, which made it a great choice in an uncertain metagame. Of all the deck's success in Frankfurt, Mateusz Rusinek of Poland was the master of the Fusion Strike Pokémon; his 4th-place finish was the highest of all the Mew VMAX / Genesect V competitors.
Arceus VSTAR with Inteleon was the other combination that shone brightly on day 1 of the competition. It appeared that nearly 20% of competitors had taken note of Bruno Sermann's success at Sao Paulo Regionals and came to battle with this deck. The idea is to use Arceus VSTAR's Starbirth VSTAR Power and the Shady Dealings Ability of Drizzile and Inteleon to find the resources required to control the tempo of the game. The inclusion of cards like Cheren's Care, Dunsparce, and Fan of Waves makes it difficult for the opponent to take Knock Outs. Arceus VSTAR also plays an attacking role: its Trinity Nova attack does a ton of damage to the opponent's Active Pokémon and accelerates Energy cards onto Benched Pokémon V. Most iterations of this deck featured a powerful Darkness-type Pokémon like Galarian Moltres V, Malamar VMAX, or Crobat VMAX to take advantage of Mew VMAX's Weakness. Thai Nguyen of Germany piloted a unique deck in this category by partnering Arceus VSTAR with Rapid Strike Urshifu VMAX, Crobat VMAX, and Sylveon VMAX. This approach has good attacking options against all of the top-performing decks, and it certainly worked for Thai, who placed 6th at this tournament. Keep an eye out for Thai and Mateusz at future tournaments—they are rising stars of the game.
Two Decks Float to the Top on Day 2
Day 2 of the competition saw the 71 best-performing competitors from day 1 return to the tables for five more rounds of Swiss, then cut to a Top 8. Emotions ran high as every player battled for the right to play in the finals on Championship Sunday.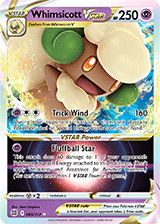 Spectators rejoiced to see Whimsicott VSTAR battling at the pointy end of the competition. This Pokémon may appear to be cute and fluffy, but it proved to be a thorn in the side of many top Trainers. The deck combines Whimsicott VSTAR's Trick Wind attack with Trainer cards like Fan of Waves and Crushing Hammer to ensure that the opponent's Pokémon never have the required Energy to attack. At the same time, Trick Wind does enough damage to Knock Out most Pokémon V or Pokémon VMAX in two hits. This strategy found particular success because most of the decks at the Europe International Championships relied on Special Energy like Double Turbo Energy and Rapid Strike Energy to power up Pokémon quickly. Additionally, Whimsicott VSTAR's Psychic typing gave it an advantage against Rapid Strike Urshifu VMAX.
Daniel Lynch and Frank Percic, both of the United States of America, realized the potential of Whimsicott VMAX. They paired the Windveiled Pokémon with Bibarel to make sure they could draw into the right resources at the right time. Daniel placed 35th, while Frank defeated previous International Champions Tord Reklev and Pedro Eugenio Torres in his top cut matches to progress to the finals on Championship Sunday.
Despite the initial hype for Pokémon VSTAR, the most-talked-about deck of the competition was Rapid Strike Urshifu VMAX. Robin Schulz won the Liverpool Regional Championships using this deck, so it was not a unique concept. However, the dominance of Rapid Strike Urshifu VMAX at the Europe International Championships took many by surprise—five of the Top 8 competitors were playing this deck!
Rapid Strike Urshifu VMAX was commonly played alongside Inteleon, Drizzile, and Galarian Moltres. This meant that the deck had the attackers to win against the top-performing archetypes, plus a method to find them and other resources in the deck when required. Interestingly, each of the competitors who progressed to the Top 8 brought their own flavor of the deck. For example, Tord Reklev of Norway included Manaphy to prevent opposing Urshifu VMAX from doing damage to Benched Pokémon. Pedro Eugenio Torres of Spain played one copy of Echoing Horn to place easy targets on his opponent's Bench. And Isaiah Bradner and Justin Bokhari used Mew's Mysterious Tail Ability to find an extra Item card each turn. Gustavo Wada of Brazil was the only competitor to include the Piers Supporter card in his Rapid Strike Urshifu VMAX deck. This allowed Gustavo to search the deck for powerful Darkness-type Pokémon such as Galarian Moltres and Galarian Moltres V, plus a Darkness, Fighting, or Rapid Strike Energy card. Piers worked wonders, and Gustavo progressed to the finals to take on Frank Percic.
Before we get to the Masters Division finals, let's check in on the exciting action at the Junior and Senior Division levels.
Inteleon Dominates the Junior and Senior Division Finals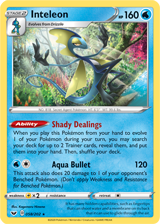 Championship Sunday commenced with exciting finals matches in the Junior and Senior Divisions. In the Junior Division, Luka L. of France brought a Malamar deck to battle against the Arceus VSTAR / Inteleon deck of Nathan O. from the USA. The pressure was on Luka to gather enough Rapid Strike cards to Knock Out Nathan's Arceus VSTAR in one hit using Malamar's Rapid Strike Tentacles. Any damage less than a Knock Out could be wiped from the battlefield by a Cheren's Care on Nathan's side.
Game 1 was back and forth until Luka missed a Knock Out, which allowed Nathan to pull ahead and stay ahead. In game 2, Luka capitalized on the opportunity to take an early Prize advantage after Nathan opened with an Arceus V but no Supporter or Energy card. Luka took the Knock Out, but it was at the expense of playing no Sobble or Remoraid to the Bench. Nathan was able to respond with a Melony off Shady Dealings, powering up an Arceus V in one turn and leaving Luka with no way to generate any momentum. Nathan O. became the Junior Division Champion at the Europe International Championships.
There was still an opportunity for a European player to win an International Champion title when Roberto C. of Spain battled Caleb R. of the USA. On paper, Caleb's Rapid Strike Urshifu VMAX / Inteleon deck was favored over Roberto's Arceus VSTAR / Inteleon deck due to type advantage, but both players had a trick up their card sleeves. In the first game, Roberto Benched a Dunsparce to remove Arceus VSTAR's Weakness. Recognizing how important the Mysterious Nest Ability was for Roberto, Caleb played a Rowlet and a Bird Keeper to Knock Out Dunsparce. That's certainly not a combination you expect to see in an Arceus VSTAR deck! Roberto conceded the game soon after. The second game also hinged on how long Dunsparce could stay on the battlefield. Once Caleb was able to take a Knock Out on Dunsparce using Inteleon's Quick Shooting Ability and Galarian Zigzagoon's Headbutt Tantrum Ability, Rapid Strike Urshifu V's Hundred Furious Blows on Arceus VSTAR pushed the advantage too far. Caleb R. took home the title of Europe International Champion in the Senior Division.
Pokémon Masters in Action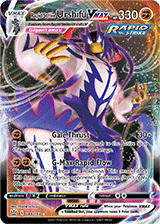 Now let's return to the big event, the Masters Division finals. Frank Percic and his Whimsicott VMAX deck had the opportunity to make it a clean sweep for the USA on Championship Sunday when he took on Gustavo Wada and Rapid Strike Urshifu VMAX / Inteleon in the Masters Division finals. Both had made it through a gauntlet of huge names in the top cut, fully earning their place at the final table. It was a highly anticipated match. Gustavo was defending his title as Europe International Champion and trying to become only the third player in the Masters Division to win more than one International Championships. Frank had already defeated two International Champions on his way to the finals. Would he defeat a third?
The first game was a one-sided affair: Gustavo stuck to his game plan, using Inteleon's Shady Dealings Ability to set up Rapid Strike Urshifu VMAX to attack with a full-powered Gale Thrust on consecutive turns. By contrast, Frank was unable to find the resources he needed to attack using Whimsicott VSTAR. Frank resorted to attacking with Bibarel, which drew applause from the crowd of spectators but was not enough to withstand Gustavo's rapid strikes.
In the second game, Gustavo delivered a masterclass on how to use the alternative attackers in his deck. Upon realizing that all of his Rapid Strike Urshifu VMAX were stuck in the Prize cards, Gustavo expertly pivoted to Galarian Moltres V and Galarian Moltres to take Knock Outs. When Galarian Moltres V Knocked Out both Whimsicott VSTAR and itself using Aura Burn, there was a moment of uncertainty about which player was favored to win. In the end, Gustavo was able to secure victory and his second International Champion title with Galarian Moltres. Congratulations, Gustavo Wada!
The return of the International Championships was a resounding success, but there's no time to rest. In a couple of months, the North America International Championships will take place in Columbus, Ohio, in the USA. And of course, more Regional Championships are happening as well. Every match counts as players vie for enough Championship Points to qualify for the World Championships taking place this August in London, England.
Be sure to check back at Pokemon.com to follow the latest Pokémon TCG news and updates!