By Cora Georgiou, Contributing Writer
The third annual Oceania International Championships took place in sunny Melbourne, Australia this past weekend, drawing fierce competitors from across the globe for the second International event of the 2019 season. With over 650 players competing for their share of $50,000 among the Pokémon TCG, VGC, and Pokkén Tournament DX tournaments, all eyes were on the local competitors from the Oceania rating zone to see if they could keep up with the best of the best from North America, Europe and Latin America. Read on to find out which players and decks came out on top in the beautiful Down Under.
A Shocking Debut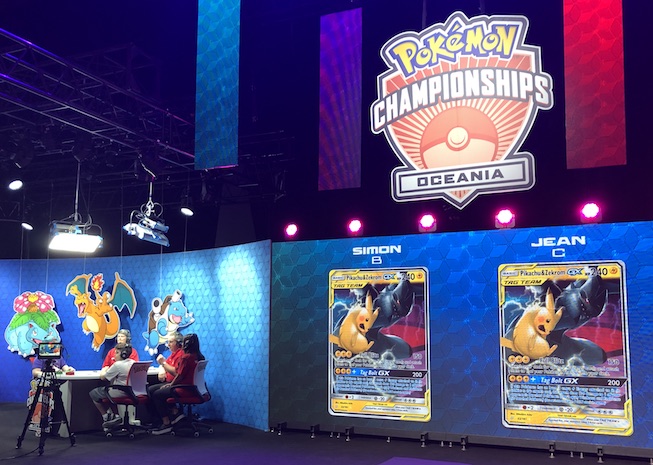 With only a few weeks to practice with the new Pokémon TCG: Sun & Moon—Team Up expansion, there were plenty of questions surrounding how the tournament meta would look. Would it be similar to the recent 2019 Latin American International Championships, or would the brand new TAG TEAM Pokémon-GX make a (Towering) Splash? Zoroark-GX won both the 2018 North America International Championships and 2019 Latin America International Championships, but Blacephalon-GX and Rayquaza-GX have also recently been powerful fan favorites. While Zoroark-GX saw some play and even managed to take the 2nd place spot at the Oceania International Championships, the real winners of the Masters Division were the brand-new Lightning-type decks featuring Pikachu & Zekrom-GX and Zapdos.
A staggering 21 of the 36 players that qualified for Day 2 in the Masters Division played either Pikachu & Zekrom-GX or a Zapdos deck featuring Jirachi. The Zapdos variant has been popular in Japan for the last few months, but Trainers brought some different versions to Australian soil. With the help of Jirachi's Stellar Wish ability to search for Trainer cards like Switch and Guzma, Zapdos can move in and out of the active spot while dealing big damage with the Thunderous Assault Attack. Though it's often been paired with Jolteon-GX, 2018 Masters Division World Champion Robin Shulz nearly made Top 8 with his version of a Zapdos deck featuring tech cards like Absol and Buzzwole to counter opposing Lightning decks. Jolteon-GX is still a solid choice, but it wasn't necessary for any of the Day-2 players in Australia.
While Zapdos requires a bit of finesse to deal damage, Pikachu & Zekrom-GX is more straightforward and proved to be almost as effective. The goal of this deck, as Junior Division finalist Jean Cardoso said, is to "put energy on Pikachu & Zekrom-GX as fast as possible." Full Blitz can Knock Out powerful Pokémon while also pulling Lightning energy from the deck to charge up the new Tag Bolt-GX Attack. 2017 World Championship Quarterfinalist Sam Chen and 2018 North America International Championship Quarterfinalist Fabien Pujol both piloted the same Pikachu & Zekrom-GX list to impressive Top-16 and Top-32 finishes, respectively. Although there wasn't a Pikachu & Zekrom-GX deck in Masters finals, it was still very successful over the weekend.
Will it be a European Three-peat?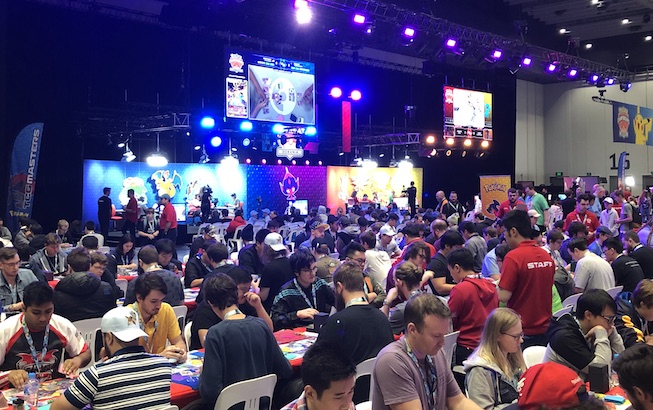 Both of the previous Masters Division Oceania International Champions, Pedro Eugenio Torres and Tord Reklev, hail from the European region. Oceania natives were thrilled to see both Kaiwen Cabbabe and Henry Brand qualify for the Top 8, but ultimately the finals came down to 2018 North American International Champion Stéphane Ivanoff from France, and Isaiah Williams of the United States. Stéphane was one of the few Trainers playing a Zoroark-GX and Lycanroc-GX deck.
Although Zoroark-GX has been one of the best performing cards in the last year, very few players chose to stick by the Illusion Fox Pokémon in this new meta. Being loyal worked well for Stéphane however, as Lycanroc-GX had a type advantage against all of the Pikachu & Zekrom-GX decks that he faced on Days 1 and 2. Isaiah Williams, however, was playing Zapdos, which does not have a Fighting-type weakness. In a close finals match, Isaiah emerged victorious and earned his first Championship title at an International event, and also the first Oceania International Championship title for North America.
Future Pokémon Masters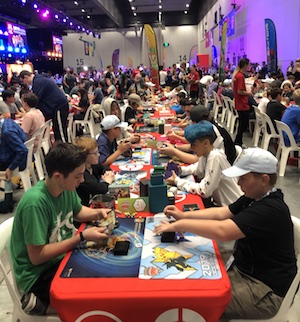 The Junior and Senior Division Trainers got their chance to shine on the final day of the Oceania International Championships, and did so with decks that largely mirrored the Masters Division. Simon Belanyi of Slovakia won a Pikachu & Zekrom-GX mirror match in the Junior Division for the title of Junior Champion. Both he and opponent Jean Cardoso of Brazil had better luck with the new TAG TEAM Pokémon than their fellow Trainers in the Masters Division. In the Senior Division we saw Alexandre Sole of Belgium playing a similar Zoroark-GX control deck that we saw him use to finish Top 8 at the Latin America International Championships earlier this year. Nonetheless, he played perfectly and emerged the Champion in a close series against Australia native Asger Balle's Zoroark-GX and Lycanroc-GX deck that was similar to Stéphane Ivanoff's. Overall, Lightning-type decks were not as prevalent in the younger age divisions, but time will tell if that remains the status quo.
With the Collinsville, Illinois Regional Championships coming up from February 22–24, we're bound to see exciting new decks taking center stage! Will other TAG TEAM Pokémon-GX be used to counter Pikachu & Zekrom-GX, or will fan favorites like Zoroark-GX and Lycanroc-GX come back into favor?
There are so many new decks to explore from the Sun & Moon—Team Up expansion, and Trainers are already hard at work figuring out what will earn them the precious Championship Points they need to qualify for the 2019 World Championships in Washington DC. Be sure to visit Pokemon.com/Strategy for all of your Pokémon TCG news and updates!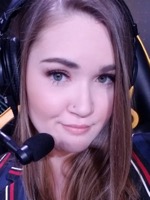 Cora Georgiou
Cora Georgiou is a contributing writer covering Play! Pokémon TCG events for Pokemon.com. After obtaining her degree in broadcast communication, Cora has gone on to build a career in gaming commentary. You can find her on the desk as part of the broadcasting team for Play! Pokémon Internationals and Worlds events, as well as online at Songbird_HS.