The 2018 North America International Championships are over, and your new champions have been crowned! Enthusiastic fans cheered on the finalists Sunday as the talented Trainers battled hard for great prizes, as well as for Championship Points toward invitations to the Pokémon World Championships.
Congratulations to all of our new Pokémon TCG, video game, and Pokkén Tournament Champions! See details on the individual final matches below.
Pokémon TCG Junior Division finals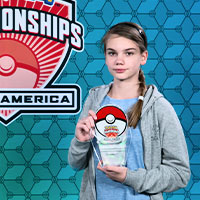 The Pokémon TCG finals kicked off with a really fun Junior Division match between Kaya Lichtleitner and Benny Billinger. After splitting the first two games, Kaya seemed to get exactly the cards she needed to start the deciding third match. She got off to a quick start, immediately getting in position to commence taking Prize cards. Benny mounted a courageous comeback but it wasn't enough—Kaya held on to become a three-time International Champion, and she has to be considered a serious favorite going into the Pokémon World Championships.
Pokémon TCG Senior Division finals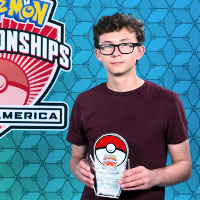 The Pokémon TCG Senior Division finals was a matchup of two heavyweights. Both Jackson Ford and Isaiah Bradner have won two Regional Championships this year, and both are in good shape to make deep runs at the Pokémon World Championships next month. To add to the drama, these close friends trained together and knew each other's games better than just about anyone. The final was a true mirror match, with both contenders using the exact same Buzzwole-GX and Lycanroc-GX deck. It wasn't a surprise that this contest went to three games, and in the end, it came down to good draws by Jackson to take the victory.
Pokémon TCG Masters Division finals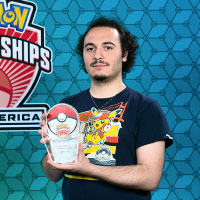 The Masters Division finals featured another matchup of good friends, but certainly neither Tord Reklev nor Stéphane Ivanoff were going to go easy on each other. With three International Championship titles already to his name, many expected Tord to be the favorite in this event. But Stéphane had other plans. Tord got out to an early lead in game 1, but Stéphane gradually clawed back to take the opening match. Tord could never get started in the second game, struggling to get both Pokémon and Energy into play. Stéphane, on the other hand, seemed get exactly what he was looking for, and continued to apply the pressure. Stéphane emerged the victor, finally beating Tord for the first time in this fifth meeting between the two. Remarkably, Stéphane did not lose a single match all weekend, finishing with a record of 12 wins, 0 losses, and 4 ties.
Pokémon VGC Junior Division finals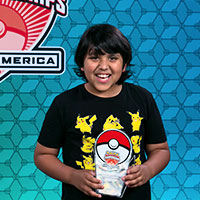 Despite their young age, both Justin Miranda-Radbord and Connor Yuen are highly decorated players. Justin has won an unbelievable eight Regional Championships this year, while Connor has won two and made the top cut in a pair of International Championships. The finals was a matchup of opposing styles, with the energetic Justin playing a more conventional team and the calm Connor using a slightly more unorthodox squad.
In the first game, Connor struggled to do major damage, and his Kommo-o wasn't quite strong enough to overcome Justin's powerful team. Connor changed up his plans in the second game, both with his Pokémon and his strategy, and it paid off with a win. The third match was intense, with Justin's Celesteela edging out Connor's Primarina to win the Championship.
Pokémon VGC Senior Division finals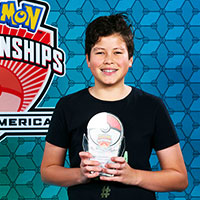 With these two veterans of International Championships taking the stage, fans knew they were going to get a quality battle. Enzo Reci and Alfredo Chang-Gonzalez have both made it to plenty of top cuts at the highest level. But neither of them had been able to earn the title of Champion in recent events, so both had a lot to play for in this match.
Alfredo was in cruise control for most of the battle, getting strong work out of his Incineroar in both games. Enzo tried a variety of different strategies to slow down his opponent's powerful team, but wasn't able to unlock the winning combination that could get him on top. Given the talent of these two players, though, don't be surprised to find them head-to-head in an important match next month at the Pokémon World Championships in Nashville.
Pokémon VGC Masters Division finals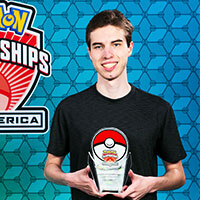 Not too many spectators would have predicted a finals match between Americans Justin Burns and Jeremy Rodrigues. Despite some strong showings in past years, neither had made much of a splash in 2018's major tournaments. But to make it this far in such a stacked field shows that both players have what it takes to become champion.
Jeremy easily took game one by using a straightforward attacking strategy instead of trying to get into a speed contest with Justin. Jeremy ended up not losing a single Pokémon in the first game, forcing Justin to go back to the drawing board heading into game two. But Jeremy anticipated Justin's changes and continued to correctly anticipate his opponent's actions. The second game was closer, but it felt like Jeremy was in control the whole time, keeping Justin's Pokémon at bay with a series of Spores from Amoonguss, then delivering huge blows with his late-game Tapu Lele. In the end, Jeremy takes the title of Pokémon VGC Masters Division Champion.
Pokkén Tournament Worlds Qualifier finals
Champion: ThanksAlot — Sceptile

Runner-up: InC Rokso — Garchomp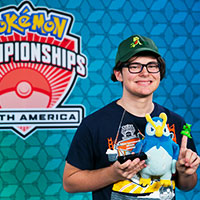 The Pokkén Tournament Grand Finals were incredibly exciting, pitting InC Rokso and his Garchomp against ThanksAlot with Sceptile. The crowd for the Grand Final was easily the loudest of the weekend, and they weren't left disappointed by the action. And it was InC Rokso that earlier put ThanksAlot in the loser's bracket, so the Grand Finals was certainly a grudge match. ThanksAlot got his revenge in a big way, finishing with two perfect games and going 6-0 in the Grand Finals to claim victory.
What an incredible run of final matches here at the North America International Championships. Congratulations to our finalists and to everyone who played hard here in Columbus.
Be sure to watch for your favorite players in Nashville, Tennessee August 24–26 at the 2018 Pokémon World Championships, the pinnacle event of the Championship Series season. We'll be streaming the event live all weekend long so you won't miss any of the top action. Keep checking Pokemon.com for more details.
Once again, congratulations to our new Pokémon North America International Champions!