Battles in sunny Indianapolis heated up as Trainers inched closer to their goal of becoming North American International Champion. Only 36 of the initial 399 Masters Division Trainers remained when play began on Saturday, ensuring that each match was truly a showdown between the world's strongest Pokémon Trainers. Battles also began in the Senior and Junior age divisions Saturday, giving Trainers of all ages a chance to duke it out for a spot in Sunday's finals and a share of a combined prize pool totaling more than $160,000.
After Friday's play, each remaining Masters Division Trainer had a record of seven wins and two losses or better. To move on to the single-elimination bracket stage, players needed to work their way up to at least ten total wins after five more rounds on Saturday.
The first players to qualify for the top cut included some of each rating zone's most talented Trainers—World Championship semifinalist Markus Stadter from Europe, quarterfinalist Sebastian Escalante from Latin America, 2011 Senior Division TCG World Champion Christopher Kan from Oceania, and Nick Navarre from North America. Unlike previous International Championships, Trainers with a record equal to the eighth-place finisher moved on to the top cut bracketand competed in play-in matches to determine who would get the last spot in the top-8.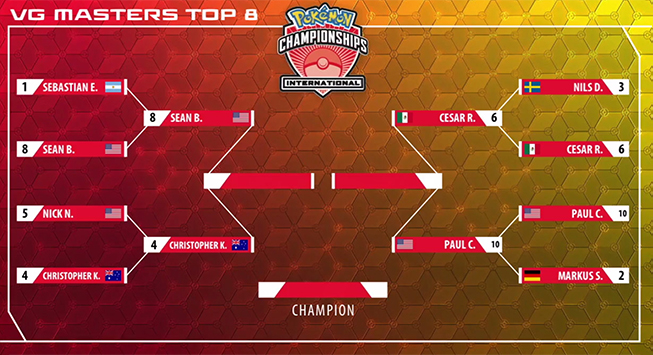 Trainers from six visiting countries made it to the top ten—leaving only four spots for the host United States. American Tyler Miller and Chilean Diego Ferreira fell in the play-in matches, leading to the top-8 bracket seen above. Sebastian, Nick, Nils, and Markus had all seemed like favorites to win it all from early Friday afternoon, but each were defeated in the quarterfinals.
Tomorrow's semifinals will match American Sean Bannen against Australian Christopher Kan and Mexico's Cesar Reyes against the United States' Paul Chua. Intriguingly, the semifinal matches pair better-known Trainers in Christopher and Paul against the more surprising stories of Cesar and Sean. Each Trainer is coming off an impressive victory against a world-class opponent, so expect to see fantastic matches when you tune into Pokemon.com/Live Sunday.
You can check out all of the Trainers' teams that made it to the Masters Division top cut here.
Tournament Darlings
One of the crucial aspects of preparing for any Pokémon tournament is building a team that can handle the most commonly selected Pokémon. Check out the top picks among the 36 players who advanced to Day 2 in the Masters Division below: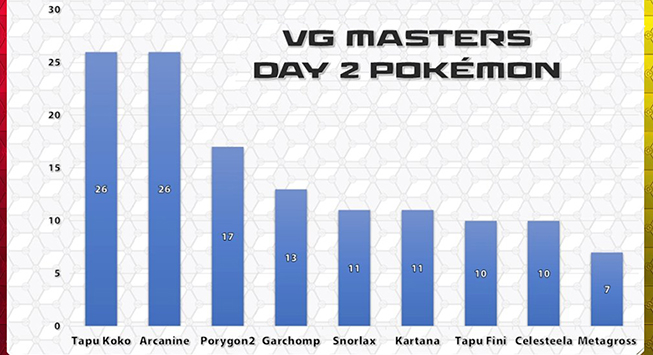 Tapu Koko, Arcanine, Porygon2, and Garchomp finishing as the four most commonly selected Pokémon shouldn't surprise many Trainers, but even these frequent fighters are worth a closer look. Garchomp would have enjoyed top billing on this chart at most tournaments early in the season, but its usage has now fallen more in line with other Pokémon. Even Arcanine, perhaps the steadiest performer this season, has settled closer to the rest of the pack.
Snorlax effectively threw its weight around in many of this weekend's battles, so it shouldn't come as a surprise that it was on the fifth-most teams from Day 2. But the Sleeping Pokémon's hefty usage shows a massive change in perception around a Pokémon that was a bit of an afterthought at the first two International Championships. Snorlax's mix of defensive stoutness and offensive potential is also a hallmark of Pokémon that tend to do well at Worlds, so don't forget your Pokéflute if you're going to Anaheim.
Celesteela's significant representation in Indianapolis probably would have seemed low to Trainers in December, but high to Trainers in March. The Launch Pokémon's popularity has blasted up and down all season long, but Trainers seem to be aboard again late in the season. One reason for its remergence may be the surge of Snorlax—Celesteela's Leech Seed can siphon significant slices of HP from hardy foes like it and Chansey.
Metagross was unquestionably the Pokémon that took the biggest strides in the Circle City. Few Trainers gave the Iron Leg Pokémon a second look for much of the season, but it proved to be a vital contributor for several Trainers at this key event. Its Clear Body Ability was pristine on two levels—it helped Metagross' matchup against Salamence and Gyarados by negating the Intimdiate Ability and it enabled some Trainers to activate a held Weakness Policy using Bulldoze without lowering Metagross' Speed.
One Pokémon conspicuously missing from this list is Tapu Lele. The guardian of Akala Island was part of the winning team at the two previous International Championships, but only four of Day 2's 36 teams included it in Indianapolis. One reason for Tapu Lele's fall may be the arsenal of Steel-type Pokémon Trainers brought to bear—with Kartana, Celesteela, and Metagross all having big events, it was tough for Trainers who brought Tapu Lele to find opportunities to use it.
Dog Gone It
Arcanine is one of the most well-rounded and reliable Pokémon available in this year's Video Game Championships—especially because of its powerful Intimidate Ability. Despite its strength, more Trainers than ever opted to go a different route in Indianapolis—perhaps anticipating that the ubiquitous Arcanine would be a frequent target of their opponents' strategies.
While Arcanine still topped the usage chart, both Gyarados and Salamence saw significantly more play relative to Arcanine than we'd seen at recent events. Both are Arcanine alternatives immune to Garchomp's Ground-type attacks, granting their team a helpful advantage in a common matchup rather than leaving their teams open to anti-Arcanine strategies.
We don't anticipate the Legendary Pokémon falling completely from grace, but take note of how many Trainers started to look for other options in Indianapolis. Tournaments late in the season tend to feature much more metagaming than those that take place earlier in the year, so the push to topple Arcanine will probably continue. Keep an eye on this trend as Trainers prepare for the World Championships—this was the first major event where the variety in Pokémon with the Intimidate Ability increased significantly since Arcanine's rise.
Rising Stars
Junior and Senior Division Trainers battled from round one to the start of the top cut on Saturday. After a full day of impressive battles, fourteen Junior Division and sixteen Senior Division Trainers remain. These Trainers will battle it out Sunday morning for the chance to move on to the finals in the afternoon. Representatives from Australia, Canada, Ireland, Italy, Peru, Singapore, the UK, and the United States have moved on to continue their pursuit of the first North American International Championship. Check out the standings to see which Trainers will be battling on.
The livestream will resume Sunday on Pokemon.com/Live starting with the Pokémon TCG Junior Division Finals around 9 a.m. EDT. Video game matches will start around 12:15 pm EDT—check out the full tentative schedule here. Paul Chua and Sean Bannen will look to continue a resurgence by the host country in the Masters Division—a bit of a shock after it appeared there might not be any players from the North American rating zone in the top cut earlier Saturday. Make sure to tune in and enjoy the spectacular matches, and remember to keep checking back to Pokemon.com/Strategy for more Pokémon TCG and video game tips, strategies, and tournament coverage.