An electrifying deck from the new expansion combines massive power with crafty techniques.
By Andrew Mahone, Contributing Writer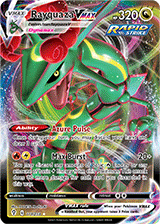 Absent from the Pokémon TCG since the Sun & Moon—Cosmic Eclipse expansion, Dragon-type Pokémon have made a triumphant return to the game in Sword & Shield—Evolving Skies and are ready to wreak havoc on the battlefield. Rayquaza, one of the most fabled Dragon types, is the centerpiece of a new archetype, Rayquaza VMAX / Flaaffy, a deck that has the firepower to deliver one-hit Knock Outs to any Pokémon that dares to stand in its path. Wielding this new Dragon-type deck can be tricky business, but with the right preparation and strategy, you'll be taming dragons like Raihan himself! Let's begin by taking a look at the core Pokémon that make this deck work, starting with the star of the show, Rayquaza VMAX!
Energy Cards
8

Lightning Energy

3

Fire Energy
Trainer Cards
4

Peony

4

Professor's Research (Professor Magnolia)

2

Boss's Orders (Giovanni)

2

Rose

3

Stormy Mountains

1

Crystal Cave

4

Quick Ball

3

Air Balloon

3

Evolution Incense

3

Level Ball

3

Switch

1

Pal Pad